Falklands Memorial Service at Pangbourne
Monday, June 18th 2012 - 10:41 UTC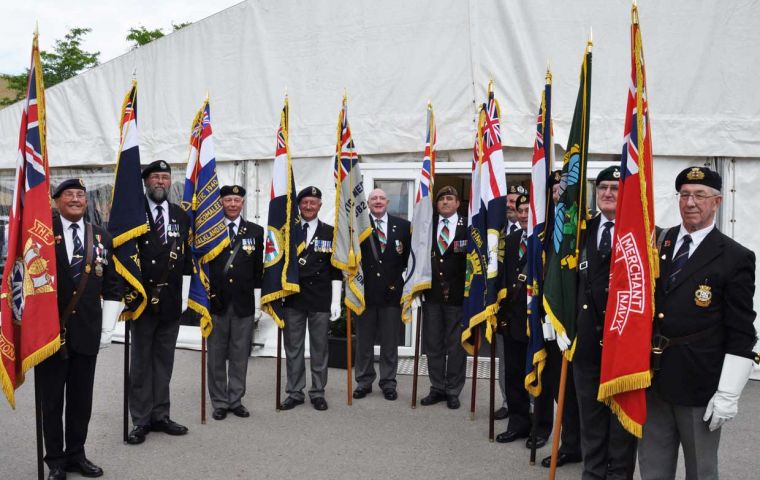 The Annual Service of Remembrance was held at the Falkland Islands Memorial Chapel at Pangbourne on Sunday 17th June. As it marked the 30 anniversary of the war a marquee was erected to extend the nave to hold the large number of veterans, families of the fallen and dignitaries - a total of 850 people.
The service was conducted by the Chaplin of Pangbourne College, the Reverend Neil Jeffers, and began with "Eight Bells" rung on the bell from RFA Sir Galahad by her captain in 1982 Captain Philip Roberts.
The choir of Pangbourne College, and the Brass Quintet from the Royal Marines took part. The Last Post was sounded, followed by the famous lament The Flowers of the Forest, played by piper Keith Burton a veteran of the Falklands War, then the traditional silence and Reveille.
The Lord Lieutenant of Berkshire, Mrs Bayliss, then presented the Queen Elizabeth Cross to members of seven families who had lost loved ones in the 1982 war. This award was instituted by Her Majesty in 2009 to recognise the loss suffered by families whose loved ones have laid down their lives while serving the country in war.
The address was by the Right Reverend Stephen Venner, Bishop to the Forces and for the Falkland Islands. The service was followed by a buffet lunch, which was magnificently organised by Pangbourne College, whose staff and students were invaluable to the organisation of the day.

By Peter Pepper - London