France defies Germany proposes 120bn Euros "pact for growth" to EU leaders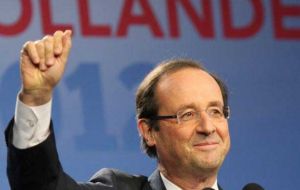 French President Francois Hollande has proposed a 120 billion Euro "growth pact" ahead of key talks with Euro zone leaders, newspaper Le Journal du Dimanche reported on Sunday.
In a letter sent to fellow European leaders on Thursday, a copy of which the newspaper said it obtained, Hollande proposed a series of measures including a financial transaction tax and investment to boost job creation.
It was sent as Hollande prepares to embark on a series of talks where he aims to shift the focus of Euro zone economic policy from austerity to growth, culminating in a European Union summit on June 28-29 in Brussels.
"Measures to effect rapid growth, to the tune of 120 billion Euros, should be decided by the European Council as of June," Hollande wrote in the 11-page document, entitled "A Pact for Growth in Europe".
"They should be developed before the end of the year, with in particular the creation of a tax on financial transactions. Finally they should be accompanied by measures for employment, in the first place for young people," the newspaper quoted the letter as saying.
Funds for the pact would come from three sources, it said: 55 billion Euros from unused European structural funds, 60 billion Euros raised by the European Investment Bank and 4.5 billion Euros in project bonds for infrastructure projects.
While 120 billion Euros represents less than 1% EU GDP, Hollande said he was "counting on a knock-on effect on all sectors of the economy", the paper said.
The newspaper also reported that Hollande had accepted Germany's rejection of so-called Euro bonds -- mutualized Euro zone debt -- and was looking instead for "a road map for the next 10 years" to study the idea.
France and Germany have been at loggerheads over Euro zone economic policy since Hollande defeated right-winger Nicolas Sarkozy last month, with German Chancellor Angela Merkel insisting that austerity should remain the key focus.
Earlier this month Berlin proposed its own growth plan for Europe, an eight-page document focussed on the potentials of the single market and on structural reforms, including privatisations and labour market reforms.
Hollande will be in Mexico on Monday for talks with his fellow G20 leaders and on Friday will attend a meeting of the leaders of France, Germany, Italy and Spain in Rome, ahead of the EU summit.