Minister Browne inaugurates new Falklands' Fisheries Department building
Monday, June 18th 2012 - 21:58 UTC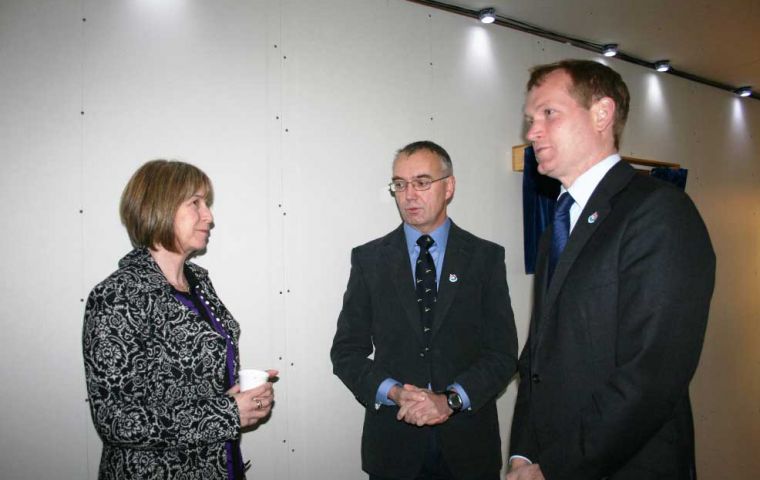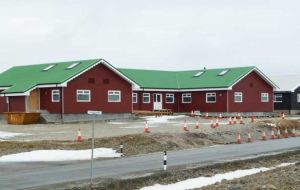 The Falkland Islands new Fisheries Department building adjacent to the Agriculture Department was officially opened by the Minister of State for the Foreign and Commonwealth Office Jeremy Browne during his recent visit to the Islands.
Mr Browne unveiled a plaque and gave a short speech in front of the Director of Natural Resources John Barton and representatives of the Falklands fishery including local fishing companies and vessel captains.
Mr Browne said although his visit was primarily related to the 30th anniversary of the Falklands conflict commemorations and celebrations, it was also a great opportunity to get a wider sense of the overall economy, and how people make a living here.
He said celebrating anniversaries was important but the big prize was, "a viable strong economic future for the people of the Falklands".
He added: "What we would like, although we are not quite at that stage, is to have some wider agreement with our neighbours (Argentina) about the management of stock," adding that this was a, "somewhat elusive but desired prize, but in the mean time the fact that the industry here is well organised, well regulated and marshalled and is creating prosperity for the Islands as a whole and for specific people on the Islands, is something we are very welcoming of and supportive of, and we wish to continue that support."
Director Barton thanked Members of Legislative Assembly, FIG officers, particularly the Design Section, fisheries employees, Morrison Falklands and their contractors.
Her Majesty's Government and the British Foreign Office had provided, "a great deal of support to the fishery over the years," said Mr Barton, "certainly at the outset when it all started in 1986/87, during some of the difficult decisions such as the arming of fishing protection vessels and during 15 years of the SAFC" (South Atlantic Fisheries Commission), the body created for the conservation of fisheries with the collaboration of Argentine.
The government of the Kirchner couple (Nestor and Cristina) unilaterally decided to drop the agreement.
Barton joked that "I suspect there are many diplomats out there who little thought they would be dealing with the intricacies of the spawning stock biomass of the southern blue whiting."
The Fisheries Department is currently situated at FIPASS, (Stanley's harbour), however the buildings have deteriorated over the years. The new building is expected to be completed at the end of July and the offices running a few weeks later. (PN).-