Cameron promises red carpet for 'over-taxed' rich French citizens
Tuesday, June 19th 2012 - 06:35 UTC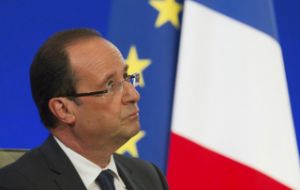 British Prime Minister David Cameron cheekily declared that Britain would open its door wide to France's rich if they flee abroad from steep tax hikes proposed by the new French government.
During this year's political campaign, France's newly-elected president, Francois Hollande, proposed hitting France's wealthy with a 75% tax on any annual income beyond one million Euros.
Anticipating a mass exodus of French top earners, Cameron said refugees from the tax would be welcome across the English Channel.
"When France sets a 75% top income tax rate we will roll out the red carpet, and we will welcome more French businesses which will pay their taxes in Britain," he said.
"That will pay for our public services and our schools," he added, during an address to business leaders at the G20 summit in the Mexican resort of Los Cabos.
Cameron, faced with his own weak economy, has resisted hiking taxes to boost state income, while Hollande is pushing to boost government income to help cut the French deficit.