Peña Nieto comfortably ahead for July 1 Mexican presidential election
Tuesday, June 19th 2012 - 23:36 UTC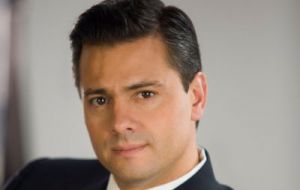 Mexico's presidential front-runner Enrique Peña Nieto has maintained a wide lead over his rivals with less than two weeks remaining until the July 1 election, an opinion poll showed this week.
The latest survey by polling firm Buendia & Laredo for newspaper El Universal showed Peña Nieto, candidate of the opposition Institutional Revolutionary Party (PRI), dipping 0.8 percentage points to 37.0% from a previous poll published on June 4.
Peña Nieto was under rising pressure earlier this month from leftist rival Andres Manuel Lopez Obrador, whose campaign was boosted by student-led opposition to the prospect of victory by the PRI, which dominated Mexico for most of the 20th Century.
Support for 2006 runner-up Lopez Obrador fell 0.4 points to 23.5%, the latest poll showed. Josefina Vazquez Mota, from the ruling National Action Party (PAN), saw support for her candidacy dip 1.0 point to 21.4%.
The survey was the first for the newspaper since a final televised debate, held on June 10, between the candidates.
Nearly a third of respondents said they believed the tele-mediactic Peña Nieto had won the debate, which passed off largely without incident. Nearly a fifth saw Lopez Obrador as the victor, just ahead of the PAN's Vazquez Mota.
Support for the conservative PAN has been hurt by a mounting death toll in the government's war on drug cartels, and a failure to create enough jobs for the growing population.
President Felipe Calderon pledged to root out the increasing menace from drug gangs when he took office in December in 2006, sending in the army to bring them to heel.
Since then the violence has spiralled, and more than 55.000 lives have been lost in turf wars between the gangs and their clashes with security forces.
A breakdown of the poll results showed that the number of undecided voters had risen slightly and that the only candidate to gain ground was Gabriel Quadri of the New Alliance Party, who is way back in fourth. He polled 3% support.
Stripping out undecided voters, Peña Nieto had the backing of 43.6% of the electorate, good for a lead of nearly 16 points over Lopez Obrador, El Universal said.
The 45-year-old PRI candidate has led polls for more than two years, and his support only began to wobble noticeably during a recent series of street protests against the PRI, which ruled Mexico between 1929 and 2000.
Opponents have played on the party's reputation for corruption and authoritarianism to stir up misgivings about a PRI victory, but latest poll results suggest the damage to Peña Nieto's candidacy has been contained.
Results of a separate survey by polling firm BGC published on Sunday showed Peña Nieto maintaining support of 42%. Lopez Obrador slipped back just behind Vazquez Mota, who was 13 points behind the PRI favoorite.
The Buendia & Laredo poll for El Universal surveyed 1.600 eligible voters between June 11 and June 14. It had a margin of error of 3.5 percentage points, the newspaper said.