Uruguay will send bill to liberalize trade and consumption of marihuana
Wednesday, June 20th 2012 - 06:41 UTC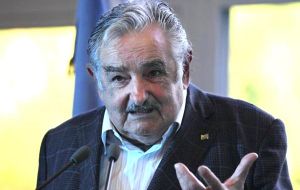 Uruguayan president Jose Mujica will send to Parliament a bill to liberate the production, trading and consumption of marihuana as part of a package of drastic measures to combat crime which he will discuss with security area cabinet minister before making them public.
According to the Montevideo press the government will have a mechanism by which it sells marihuana cigarettes to consumers but with a registry of buyers. Regulation will establish "acceptable consumption levels" and those who cross the line will be summoned to join addiction treatment, financed by the government.
President Mujica allegedly consulted with members of Parliament from his sector, the ruling Broad Front, and there was coincidence that the bill would have a quick passage.
The initiative includes a "specific tax" on marihuana consumption and the revenue will finance a fund for all addictions treatments.
Simultaneously with the legalization of marihuana the government will announce a drastic plan to combat a cheap compound of cocaine (pasta base in Uruguay and paco in Argentina) with severe and exemplary fines and penalties.
President Mujica went on national radio and television on Tuesday with a strong message calling on society to reflect on the increase in violence and the need to protect the right to life.
The number of killings and armed robbery has increased significantly so far this year in Uruguay, which has caused a growing feeling of insecurity.
Likewise the Minister of Interior Eduardo Bonomi together with other ministers will announce the package of measures that includes tougher penalties for crime and other criminal activities covered by Penal law.
In the case of minors some sentences for special aggravated crimes will be trebled.
"Life can't be bought, can't be sold, it's a miracle staying alive" said Mujica in his message calling on the defence of the right to life and combating violence in society. He recalled that at the time of his grandparents, followers of the different football teams did not have to be located in different stands.