UK to reopen embassy in Paraguay and new embassy in Haiti
Thursday, June 21st 2012 - 17:52 UTC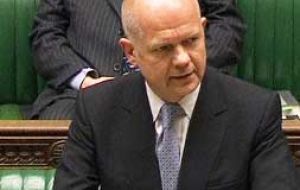 Following on the UK policy to establish closer ties with Latin America, Foreign Secretary William Hague has announced plans to re-open the British Embassy in Paraguay and a new British Embassy in Haiti.
In a written statement to Parliament the Foreign Secretary said: The Government is committed to strengthening and reinvigorating Britain's diplomatic network overseas.
"On 11th May 2011 I announced plans to open six new Embassies and up to seven new Consulates General and to increase our diplomatic representation in more than twenty countries worldwide. On 2 February 2012 I announced additional plans to open an Embassy in Liberia, and on 15 May 2012 I announced plans to open an Embassy in Laos and a British Interests Office in Burma in Naypyitaw.
"Today, I can announce further steps to strengthen British diplomacy in Latin America and the Caribbean: The Foreign and Commonwealth Office will now re-open the British Embassy in Paraguay which was closed in 2005, and we will establish British diplomatic representation in Haiti for the first time since 1966.
"This builds on our decision to re-open the British Embassy in El Salvador which was closed in 2003 and the new British Consulate in the Brazilian city of Recife. It amounts to a considerable diplomatic advance in Latin America and the reversal of the previous Government's policy of closing posts in the region.
"Paraguay is the country with the largest economy in the world that does not have resident British diplomatic representation and was the fastest growing economy in South America in 2010. This new Embassy will further strengthen British diplomatic engagement in the region. It will help to unlock commercial opportunities for British companies in this significant market. And it will allow us to work closely with Paraguay on regional issues such as counter-narcotics and organised crime.
"The new British Embassy in Haiti will report to our Ambassador in the Dominican Republic. It will place us in a stronger position to support our objectives in Haiti and the region. The UK is a major contributor both to reconstruction and development in Haiti through multilateral agencies. We are also one of the major financial contributors to MINUSTAH, the UN peacekeeping operation. It is in Britain's interest as a Permanent member of the UN Security Council to play a more active role in guaranteeing stability and creating the conditions for growth and prosperity.
"The strength of our overseas network is a signal to the world of our engagement and commitment to international peace and security. And our Posts themselves are the essential infrastructure of our country's international influence and of our economic recovery. They provide an early warning system for threats to peace and security and assist British nationals in time of crisis. They support our economy and help British businesses, and they promote our values across the world.
"The strengthening of our global diplomatic network will therefore remain a central objective of the Government. On current plans by 2015 we will have deployed 300 extra staff in more than twenty countries and we will have opened up to eleven new British Embassies and eight new Consulates or Trade Offices".