Uruguayan minister admits deep concern about events in the Euro zone
Thursday, June 21st 2012 - 18:12 UTC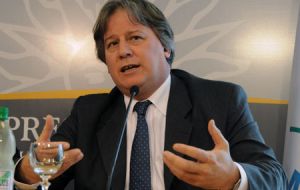 Uruguayan Minister of Economy Fernando Lorenzo expressed deep concern regarding events in Europe and warned that "the longer the delay in effectively analyzing the cost of the crisis" then everything will work out "much costlier".
Lorenzo addressed this week a seminar on innovation, new technologies and better qualifications for human resources and also referred to the European situation and the cost of recovering the Euro zone, following on a question from a Spanish panellist.
"The bill will continue to add up until it is not clear who is going to pay for it", said Lorenzo.
He added that the definitive bill will emerge once it is known who is going to pay it and that he is effectively capable of doing so. If you say the bill is going to be paid by the Greeks, nobody believes you. You are then facing a serious problem of temporary coherence".
More specifically Lorenzo talked about the challenges faced by Uruguay with labour, which is increasingly unqualified for the type of posts offered by the economy particularly as the country approaches full employment.
"If the unemployed or out of a job (approximately 6% of the active working force) are given a job with matches their capacity, "the country's GDP could increase almost one percentage point".
But if that mass of idle workers are properly qualified in a process that can take "four to five years", the country's growth "could be four, five times greater".
Lorenzo emphasized in the need of government polices precisely for this kind of situations and said it is "a threat to the democratic system to argue that the Uruguayan bonanza of these years has been possible only because of the external context".
If that was the case, "all that is good and bad comes from outside, and whatever we do here has virtually no significance, then it would make no sense or matter less whoever tries to implement innovation policies", concluded Lorenzo.
The minister and his team, actually headed by the former Economy minister and current Vice-President Danilo Astori are coming under growing criticism for having squandered years of bonanza in bloating the budget, increasing government employment and not planning and executing much needed infrastructure for the country's expanding economy.
Most major investments such as pulp mills plants, improving ports, new airports, greater silo capacity, low taxing favouring agriculture and cattle breeding were started by previous governments.