Bad day for Jennifer Lopez in Argentina: terrible pain back and her staff robbed
Sunday, June 24th 2012 - 02:19 UTC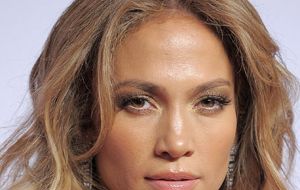 Jennifer Lopez, who is in Argentina as part of her 'Dance Again' tour, was robbed just hours after she left a clinic after being treated for a stabbing pain in her lower back.
According to local entertainment website Primicias, the thief took personal items from the 42-year-old singer's dressing room, while she performed at the GEBA stadium in Buenos Aires on Thursday.
The stolen goods included a computer, a camera and a bag with personal documents such as IDs and passports.
Complicating matters, Lopez's manager Benny Medina, who has also been robbed, has not been able to leave the country since he has lost all forms of identification.
According to Spanish network Univision, the 'On the Floor' singer had experienced extreme back pain and had to interrupt her sound stage and had to be taken to a clinic.
Lopez later took to Twitter to talk about the incident, revealing that her kids had something to do with the hospital scare.
"Got an xray this morning...all good...pulled back muscle," the Daily Telegraph quoted Lopez as writing on Twitter on Thursday.
"Coconuts getting to big to carry both at once. Awww... timeflies :)" she wrote.
However the "American Idol" judge played down the incident with a source insisting she wasn't so ill that the show was never going to be cancelled.
"She went to get an x-ray, everything is fine and performed to a sold-out audience last night," her team revealed. "The show was never in jeopardy of being cancelled."
In effect JL did not cancel her elaborate, two-hour concert, in which she performed old tunes such as 'Get Right', 'Let's Get Loud', 'Waiting for Tonight' and her popular song 'Jenny From the Block'.