Brazil says it is "impossible" to force the Paraguayan congress to review the removal of Lugo
Monday, June 25th 2012 - 06:19 UTC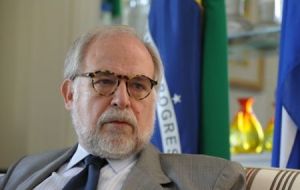 Brazil will wait for the Paraguayan situation caused by the removal of Fernando Lugo "to decant" before assessing the most appropriate measures to address the "rupture of democratic order" in the country, according to Planalto sources.
"We are going to let the crisis in Paraguay to decant and see how things finally rest", said Marco Aurelio García, international affairs advisor of the Executive. On Saturday Brazil recalled its ambassador in Asuncion for consultations.
"The first step was to recall ambassadors, the second is to share information and see how Mercosur moves on from here and what are the options" added Marco Aurelio quoted by the official Agencia Brazil.
Foreign Minister Antonio Patrota had advanced on Saturday that Mercosur presidents would take advantage of the summit next Thursday/Friday in Mendoza, Argentina, to assess the situation and adopt a joint position.
"Brazil will tune in with what is decided by Mercosur", underlined García who immediately added that nor Brazil or Mercosur pretend to interfere in the internal affairs of Paraguay, but they can't stop from condemning what happened in the neighbouring country and express their strongest rejection to the "institutional rupture".
"Having called our ambassador from Asuncion is a clear signal of our deep disappointment", indicated Garcia.
The international affairs advisor also said it was "impossible" to adopt actions to force the Paraguayan congress to review its decision to remove Lugo although admitted that some "internal actions" are possible to overcome the institutional situation which Brazil condemns.
Garcia reiterated the Brazilian government condemnation to the removal of Lugo considering he was exposed to a "summary ritual" in which his ample right to defence "was not properly guaranteed".
"Brazil considers that the procedure adopted by the Paraguayan congress compromises the fundamental pillar of democracy, an essential condition for regional integration", said the Brazilian Foreign Affairs ministry.
The release finally states that Brazil together with its associates from Mercosur and Unasur is considering measures to be implemented "as a consequence of the rupture of the democratic order" in the framework of the region's commitments with democracy.