Paraguay suspended from Mercosur summit which begins Monday
Monday, June 25th 2012 - 07:12 UTC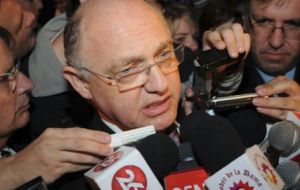 Mercosur countries decided on Sunday "to suspend with immediate effect" the participation of Paraguay in the coming Mercosur summit and preparatory meetings set to begin Monday until next Friday in Mendoza because of the removal of President Fernando Lugo.
The release from the Argentine Foreign Affairs ministry since Argentina holds the rotating chair of Mercosur, "energetically condemns the rupture of the democratic order in the Republic of Paraguay for not having respected the right to due process".
The signatory countries of the release from the Argentine ministry include Mercosur full members Argentina, Brazil, Uruguay, Venezuela and associate members Bolivia, Chile, Colombia, Peru and Ecuador.
All Mercosur presidents on Saturday openly rejected the removal of President Lugo describing the move as a "legislative, congressional or institutional coup", in which the removed leader, in what was described as an "express" impeachment was denied sufficient time to present his defence.
Foreign Minister Hector Timerman anticipated that Mercosur and Unasur countries would sanction the current regime of Paraguay for having broken the "democratic order", as established in the Ushuaia Protocol from July 1998 which demands "full democratic institutions as essential pre-condition for the integration process development"
The release also said that during the Mendoza Mercosur presidential summit next Thursday/Friday, "ulterior measures are to be adopted".
Paraguayan president Francisco Franco who replaced Lugo last Friday confirmed he had received the "suspension note" and in a controversy with Argentine president Cristina Fernandez denied "any kind of coup and said the Paraguayan constitution had been fully complied during the removal process".
Franco had planned to send his Foreign Minister to Mendoza to meet with his counterparts and explain the constitutional and political process and request support for the new government. It is not clear if the minister will travel to Mendoza.
Both Houses of the Argentine congress have been summoned for Monday evening to decide on a strong resolution condemning the removal of Lugo and rejecting political events since.