Moody's confirms Spanish banks on the cliff burdened by souring real-estate loans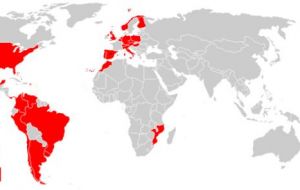 Spain largest lenders, Santander SA and Banco Bilbao Vizcaya Argentaria SA were downgraded by Moody's rating agency because of the country's sovereign debt and souring real-estate loans.
At least a dozen banks were lowered to junk status, Moody's said on Monday in a statement. The ratings company downgraded six banks by four levels and 10 by three grades with the rest getting one- and two-tier declines.
Moody's issued a three-step reduction in Spain's credit grade on June 13, citing the debt, a weakening economy and limited access to capital markets. Spain was lowered to Baa3, the lowest investment-grade rating, from A3 and remains on review for a further cut after announcing plans to borrow 100 billion Euros from European Union rescue funds to recapitalize banks.
The lenders are facing the "reduced creditworthiness" of the nation as well as the "expectation that exposures to commercial real estate (CRE) will likely cause higher losses, which might increase the likelihood that these banks will require external support," the ratings firm said in its statement.
Banco Santander had its long-term debt rating cut to Baa2 from A3. That's one step higher than the sovereign rating because of the Madrid-based lender's geographical diversification and "manageable" level of direct exposure to Spanish debt, Moody's said. BBVA, based in Bilbao, is rated Baa3, down from A3. Moody's had already downgraded 16 Spanish banks on May 17.
The latest cuts reflect the government's reduced creditworthiness, which lessens its ability to support the lenders, as well as Moody's expectation that losses linked to commercial real estate will keep rising, according to Monday's statement.
Concern that Spain will struggle to bail out its banks as their loan losses mount has driven up the country's borrowing costs. The extra yield investors demand to hold Spain's 10-year bonds rather than German bunds ballooned to 517.4 basis points on June 25 from 479.9 basis points on June 22. A basis point is a hundredth of a percentage point.
Moody's "views positively the broad-based support measures being introduced by the Spanish government to support the Spanish banking system as a whole," analysts including Greg Bauer, global banking managing director, said in the statement. The ratings firm will assess the impact of the measures "once the final amount, timing and form of funds flowing to each individual bank are known."
Spanish banks ratio of bad loans to total lending surged to 8.72% in April, the highest since 1994, from less than 1% in 2007 according to Bank of Spain data. Lenders have 184 billion euros of what the regulator terms problematic real estate-related assets after taking property onto their books following the collapse of Spain's property boom in 2008.