Argentina reiterates it will honour bonds maturing in August and December
Wednesday, June 27th 2012 - 08:25 UTC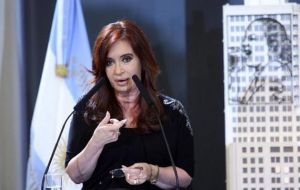 Argentina will pay back 5.716 billion dollars in bonds maturing next August and December, several of them tied to GDP evolution, confirmed president Cristina Fernandez.
"If Argentina wishes to pay off its foreign currency debts, it could do it with the use of the Central Bank reserves", Cristina Fernández stated during a national television speech at Government House on Tuesday when she covered a raft of issues.
CFK added that Argentina's current debt amounts to 42% of GDP, but before the restructure implemented by her deceased husband and former president Nestor Kirchner it was 130% of GDP.
"Today, the debt accounts for 42% of GDP, with 14% owned by private parties – both domestically and internationally – and 9.6% only in dollars or Euros".
The Argentine president said that during the recent G20 in Mexico she confirmed to her peers from creditor countries that Argentina would honour all its foreign commitments "as it has being doing since 2003.
"I told fellow presidents that in August we are going to finish with the 'corralito' (2002 dollar clamp)" in reference to Boden 2012 which was issued in the midst of the 2002 meltdown to compensate banks for the asymmetric 'pesification' and to repay depositors who had savings in US dollars at the time.
"In the first days of August we will be repaying 2.281 billion dollars", she added. And in December Argentina will appeal to the central bank reserves to pay bonds tied to GDP equivalent to 3.435 billion dollars. These bonds were issued in 2005 and refer to restructured debt defaulted in 2001.
The bonds are honoured partly in US dollars and in Argentine pesos and are cancelled when the GDP growth index is above a floor of 3.26%. The bonds are normally repaid in the following December so those that mature this year will take as reference the 9% GDP growth of 2011.
"That is why we have ample international reserves and that is why we are so jealous in looking after them" said CFK and recalled that those EU countries most complicated with the current Euro financial crisis are appealing to central bank reserves to pay debts. "What we did in 2009, the G-20 is only beginning to do so in 2012" underlined President Cristina Fernandez.
She also aimed at "some media groups" which had said that "Argentina was about to be expelled from the G20 group". Those rumours have proved to be completely unfounded, said the Argentine president.
Meantime the US dollar in the official market was traded on Tuesday at 4.49 and 4.53 Pesos, while in the "blue" or "black" market if dropped a few cents to 5.94 Pesos.
In related news the Argentine government, following on complaints from exporting companies belonging to the mining and winery sectors, extended to 120 and 180 days the period they have for the mandatory sale of their dollars to the Central bank once exports have been completed.
Last April in the middle of growing flight of capital, the period had been cut to 15 days and a month later was extended to a full month.