Falkland Oil & Gas confirms Italian/French partner for drilling in South Atlantic
Wednesday, June 27th 2012 - 16:04 UTC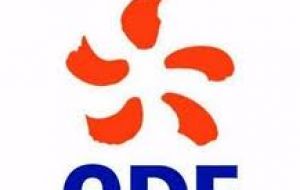 London AIM listed Falkland Oil & Gas (FOGL) said Italian utility Edison International Spa was its new partner, bringing in a large, non-British company to help it look for hydrocarbons in the Falkland Islands.
FOGL confirmed on Monday that Edison, which is owned by French group EDF, is the unnamed company which it said in March had bought an option to invest in its license areas off the coast of the Falkland Islands in the South Atlantic.
Edison will farm in and earn a 25% interest in FOGL's northern area licences. Edison will contribute its pro-rata share of the costs of the 2012 drilling program, comprising two exploration wells.
Edison will farm in and earn a 12.5% interest in FOGL's southern area licences and will contribute its pro-rata share of the 2012 work program. The Italian company will also pay its pro-rata share of certain historical costs incurred by FOGL during 2011 related to the 2012 drilling program.
Edison's share of historical expenditures together with their share of the 2012 drilling program costs, are expected to be of the order of 50 million dollars.
In addition Edison will make a separate cash contribution to FOGL of 40 million; 20 million on completion of the FOA and a further 20 million in 2013. In order to obtain the option, Edison had already paid a $3 million non-refundable fee.
FOGL will retain operatorship of the northern and southern area licences.
"We are delighted to have agreed favourable farm out terms with Edison. Edison is an experienced international exploration and production company, now owned by a major European energy company," FOGL chief executive Tim Bushell said this morning.
Edison is a long established international exploration and production company which currently produces 48,000 barrels oil equivalent (boe) per day with approximately 360 million boe of reserves from over 80 licences spanning countries such as Italy, Egypt, Norway, Croatia, Algeria and the UK.
The company has experience in a wide variety of operating environments and has participated in a number of deep-water ventures elsewhere, including offshore Egypt. Edison is now controlled by EDF, the world's leading electricity company, who are looking to use Edison as a vehicle to expand its position in upstream oil and gas projects.
This farm out will considerably strengthen FOGL's financial position. In the event that the two exploration wells are drilled within budget it is estimated that on completion of the wells the Company's cash balances will not be less than 100 million dollars and they will be available to fund additional exploration work. This may include further drilling and/or the acquisition of 3D seismic.
The farm out to Edison has been approved by the Falkland Islands Government.

FOGL expects to receive the Leiv Eiriksson rig in July following completion of the drilling of the Borders &Southern Stebbing well. FOGL intends to drill its first well on the Loligo prospect and the second well will be selected based on the Loligo well results.
If the initial Loligo results are encouraging, it will either be a further well on Loligo or a well on Nimrod. Otherwise, a well will be drilled on the Mid Cretaceous Scotia prospect. Further drilling in this campaign would be subject to these well results and to rig availability.
Last march, the Argentine government announced that they had begun legal proceedings put together with the AFIP tax revenue agency against five British oil companies, accusing them of "carrying out illegal operations" in the Malvinas Islands. Argentina claims sovereignty over the archipelago and has warned international oil companies exploration on the disputed territories is illegal. It has also sent letters to the stock exchanges of New York and London warning them that listed companies involved in Falklands businesses are operating in an area under dispute.