Petrobras Argentina second oil and gas strike in Patagonia's Santa Cruz
Wednesday, June 27th 2012 - 08:38 UTC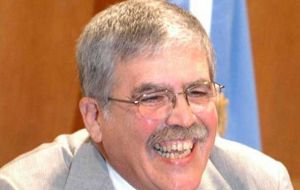 Petrobras Argentina, the local unit of Brazil's state-owned energy firm, said on Monday it had found new oil and natural gas resources in its Estancia Agua Fresca concession in the Patagonian province of Santa Cruz
Preliminary drilling results indicate potential reserves estimated at about 6 million barrels of oil equivalent (boe), the company said in a statement. The find was at a depth of just over 3.000 metres.
The Estancia Agua Fresca concession is 230 kilometres northwest of Rio Gallegos.
Petrobras Argentina operates the concession and is a 50% shareholder in it along with Compañía General de Combustibles SA, according to a statement Petrobras Argentina sent to the Buenos Aires Stock Exchange Tuesday.
The discovery is the second at Petrobras's Estancia Agua Fresca concession in the province, where it already produces almost 3,000 barrels of oil and close to 3.2 million cubic feet of gas a day.
Federal Planning minister Julio de Vido said the estimated value of the new deposits is in the range of 350 million dollars. "Of this sum 42 million will be for the Santa Cruz province and 123 million for the federal government".
In November, Petrobras Argentina said it would invest 800 million dollars over the next four years in Santa Cruz.