Queen Elizabeth shakes hands with former IRA commander McGuinness
Wednesday, June 27th 2012 - 17:30 UTC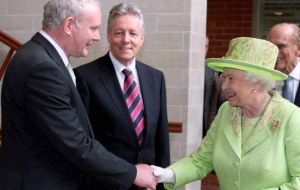 Britain's Queen Elizabeth shook the hand of former Irish Republican Army (IRA) commander Martin McGuinness for the first time on Wednesday, drawing a line under a conflict that cost the lives of thousands of soldiers and civilians, including that of her cousin.
The meeting with McGuinness, who is now the deputy first minister of British-controlled Northern Ireland, comes 14 years after the IRA ended its war against Britain's claim to the province, and is one of the last big milestones in a peace process whose success has been studied around the world.
The Queen met McGuinness behind closed doors in a theatre in a leafy middle-class suburb of Belfast, which hundreds of police cordoned off ahead of the event.
There has been scattered opposition to the gesture of reconciliation from dissident Irish militants and from some of the IRA's victims. But the vast majority of the province's politicians back the meeting, the first between the Queen and a top member of the IRA or its former political wing, Sinn Fein.
"Today is a huge event and it is, in a sense, the ultimate handshake," John Reid, Secretary of State for Northern Ireland from 2001 to 2002, told the BBC.
"On all sorts of levels this is a hugely significant step but it is only one more step in a long process. This may take generations - to get back to absolute reconciliation in Northern Ireland and the island of Ireland."
McGuinness has long been reconciled with the fiery anti-Catholic Unionist leader Ian Paisley, who sat with him in a power-sharing provincial government.
The Queen regularly meets senior Unionist politicians, Protestants who want Northern Ireland to stay inside the United Kingdom, but not Sinn Fein, the largest party representing Catholic nationalists who want a united Ireland.
McGuinness, deputy first minister of Northern Ireland's power-sharing government, is a hero to Republican hardliners, but has long been a hate figure to Unionists, many of whom harbour deep suspicions about his past.
He admits he was on the front line in the war with British forces, including on Bloody Sunday in 1972, when troops shot dead 13 unarmed protesters, but says he never killed anyone.
A British report said that McGuinness probably was armed with a sub-machinegun on Bloody Sunday, but did nothing to provoke the massacre. He has said he left the IRA in 1974, but most historians believe he was active for most of its campaign.
For the Queen, the Northern Ireland conflict has long had a personal edge. Her cousin Lord Mountbatten was killed by the IRA in 1979 with three others, including his 14-year-old grandson, when his boat was blown up while he was on holiday in Ireland.
More than 1,000 members of the British security forces were among 3,600 people killed during the 30 years of the "Troubles".
"I represent people that have been terribly hurt by British state violence over the course of many years," McGuinness said in a video interview that Irish journalist Eamonn Mallie posted on his website Tuesday.
"But I am also big enough to understand that Queen Elizabeth has also lost a loved one, and of course there are families in Britain: mothers, fathers, sisters and brothers, children of people who were sent here as British soldiers who lost their lives also."