The man who steered Greece into the Euro zone is back on the helm
Wednesday, June 27th 2012 - 20:36 UTC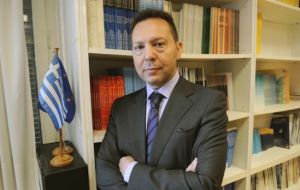 The Greek government has appointed a new finance minister after its first choice resigned due to ill health less than a week after being appointed. Economist Yannis Stournaras has now been appointed, the government said.
Nicknamed Mr Euro, he was part of a team which negotiated his country's entry into the single currency.
Banker Vassilis Rapanos quit on Monday after spending four days in hospital suffering dizziness and abdominal pains.
"Prime Minister Antonis Samaras has decided to name Athens University economics professor... Yannis Stournaras as finance minister," the government said in a statement.
Mr Stournaras was most recently development minister in the caretaker government in power until the 17 June elections.
"Stournaras is a serious, respected person who will inspire some confidence in the markets. But he is entering a bad government, where many old-style, spendthrift politicians are occupying key positions," said political analyst John Loulis.
"He will have to wage a hard battle against them. He is entering the wolf's lair and he won't survive without the prime minister's solid support," Mr Loulis added.
Mr Stournaras was chief economic adviser and aide to former Prime Minister Costas Simitis when Greece was negotiating entry to the Euro, which it joined in 2001.
He is considered a liberal in economics, strong supporter of structural reforms to open the economy and make it more competitive, ideas which will grant him allies among the exasperated creditors of Greece.