Britain forecasted to import 80% of gas consumed as early as 2016
Friday, June 29th 2012 - 01:13 UTC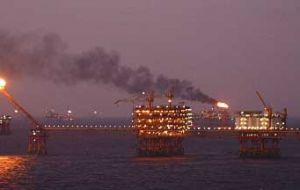 Britain's declining oil and gas industry may be a minnow on the world stage, 20th largest oil producer and 15th largest gas producer in 2010, but it is still remarkably important for jobs and the UK economy, reports Citywire.
Taxes on production accounted for a fifth of total corporation taxes received by the Exchequer in 2011/12, according to industry lobby group Oil & Gas UK. And the industry employed 440,000 people (in 2010) across the UK (with some 45% of these in Scotland).
The UK government forecasts that even amid vast investment into renewable energy sources, the UK will still need oil and gas for 70% of its energy needs in 2020. But even the lobbyists admit companies operating in the North Sea are 'fighting hard to stand still'.
Oil and gas production from the UK sector of the North Sea peaked in 1999, with just 40% of oil and gas reserves left to be extracted. Declining North Sea gas production has made the UK a net importer, with supplies coming from an increasingly diverse line-up of countries.
According to some estimates, by 2016 as much as 80% of the gas consumed in the UK will come from imports.
Operating in the North Sea is an 'uncertain business' given the lower rates of return in smaller discoveries. WWF-UK, in its fury at a tax break for the industry announced in the March Budget, fairly described it as a 'dying industry with no long-term prospects'.
It's no surprise that the big companies, which can more easily extract oil and gas elsewhere, are withdrawing, while smaller ones seek survival through consolidation. This week BP announced it was selling two of its North Sea fields as part of the 'active management' of its portfolio there.
Still, as pointed out by a report from analysts at Edison last year, despite 'significant challenges', there is still 'much to play for' in the last push for British oil and gas.