Unasur will debate how to remove the group's presidency from 'illegitimate' Paraguay
Friday, June 29th 2012 - 06:22 UTC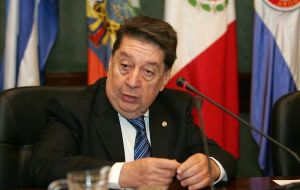 Besides the Mercosur summit, the Argentine city of Mendoza will also be hosting on Friday an emergency meeting from the Union of South American nations to discuss Paraguayan president Fernando Lugo's swift removal and replacement by a government which has triggered strong resistance in the continent.
UNASUR a brain child of Brazilian diplomacy is made up of all South American countries, including Suriname and Guyana, and will also consider suspending Paraguay from the organization arguing Congress denied Lugo the right to a proper defence.
Many countries in the region have called their ambassadors back from Paraguay's capital Asuncion, permanently or for consultations. They want to send a stern warning about the consequences of removing a democratically elected leader, even if Lugo's chances of returning to power appear remote.
Lugo, a former Roman Catholic bishop, who accepted his removal although under protest and the following day organized an "emergency resistance cabinet" against the "illegitimate" government of his former ticket companion and Vice president Federico Franco who replaced him admitted it would take a miracle to get him reinstated.
Franco has defended the constitutionality of the impeachment trial, which Paraguay's top court upheld while the Electoral supreme tribunal argued there is no chance of changing the electoral calendar (as suggested by some neighbouring countries) unless it is approved in Congress by a special majority since there are no formal objections to the whole succession process.
"They don't have a right to kick us out of any meeting," Paraguayan Foreign Minister Jose Felix Fernandez Estigarribia said in Asunción. "We are the government of Paraguay, elected by the Congress that removed Lugo from office".
For Unasur the problem is that Paraguay currently holds the presidency of the group and was scheduled to transfer the responsibility to Peru next October.
The majority consensus in Unasur is that the presidency must be removed from Paraguay and its transfer to Peru advanced. However the mechanisms for such a move in a framework of legality apparently have yet to be found.
Friday midday there should be an idea of how the situation evolves.
Earlier this week another regional multilateral body, OAS, Organization of American States was unable to reach a consensus on the Paraguayan situation and it was decided to send a mission to Asuncion and possibly neighbouring countries to collect information on the ground of events. The party is headed by OAS Secretary General Jose Miguel Insulza.