Repsol donated a million dollars to the campaign of President Kirchner in 2003
Saturday, June 30th 2012 - 04:17 UTC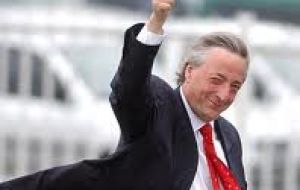 The nationalization of YPF, seized from Spain's Repsol by Argentine president Cristina Fernandez is again a source of controversy following the disclosure by an investigative journalist that the Spanish oil corporation in 2003 helped finance the presidential election of Nestor Kirchner as well as the other candidate in the run-off, Carlos Menem.
The deceased former president Kirchner far from condemning the overseas distribution of YPF dividends following the privatization of the company in 1999, received a million dollars for his presidential electoral campaign in 2003 according to a piece published in El Pais from Madrid, under the heading "YPF made electoral donations to Nestor Kirchner".
In the 2003 presidential election Nestor Kirchner and Carlos Menem when the run off, and according to high ranking officers from YPF at the time "received the same contribution for their respective campaigns" close to a million dollars each.
"The donations were official and included in YPF books, although top officials from the corporation had to overcome Kirchner's resistance to have the outlays registered", writes Francisco Mercado in the influential El Pais, adding that none of the two candidates "considered any illegality the fact that they were receiving funds from a corporation under Spanish control".
Mercado also recalls that from their respective political areas of influence, Menem as president and Kirchner as governor of the province of Santa Cruz, "had agreed to the extensive privatization program from the Menem administration (which included YPF)", started in 1992.
However Mercado also discovered that it was not the first time Spanish YPF had helped finance Argentine politicians linked to the privatization process. It happened when the presidential electoral campaign that culminated on 24 October 1999 with the victory of the Alliance candidate, Fernando de la Rúa.
And privatized YPF generosity did not stop with de la Rúa: his two main rivals Eduardo Duhalde (later caretaker president) and Domingo Cavallo former Economy minister from the Menem administration until 1996: each of them received a million dollars for their campaigns from YPF which at the time had recently been privatized.
But the former YPF officials who confirmed the donations also point out that such donations in Argentina are not illegal. They are requested by the political parties through collateral foundations and they were "all neatly registered in the company's books".
Nevertheless when the reporter tried to have access to the books from those years, Repsol sources assured "they had no knowledge of such possible donations to Argentine politicians which occurred when the corporation's CEO was Alfonso Cortina.