OAS fact-finding mission on the Paraguayan situation arrives in Asuncion
Monday, July 2nd 2012 - 06:00 UTC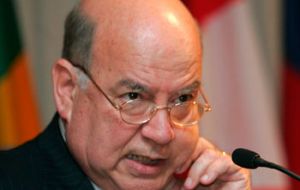 The Paraguayan government named a special committee of military, police and diplomatic officials to help avoid possible incidents of violence when the fact-finding delegation from the Organization of American States, arrives in Asuncion.
The OAS delegation headed by Secretary General Jose Miguel Insulza left Washington on Sunday together with the standing representatives before OAS from the United States, Canada, Haiti, Honduras and Mexico. On their return the mission has to elaborate a report to be presented to the OAS Permanent Council.
"We have information that there could be attempts to give a false image of the country and the current situation when the ambassadors arrive. That is why we have a Crisis committee with delegates from Foreign Affairs, the police, military, minister or Justice, minister of Interior analysts and Defence", said Interior minister Carmelo Caballero.
However the minister promised there would be no restrictions on demonstrations, marches or other free expression peaceful activities as long as "they don't become punishable crimes".
The delegation headed by Insulza was scheduled to arrive in Asuncion early Monday morning and will collect information on the ground regarding recent events and plans to meet former president Lugo and his 'resistance cabinet' as well as current officials and protagonists involved in the impeachment process.
Last week following the impeachment that removed Lugo from office and had him replaced by Vice-president Federico Franco, the OAS Permanent Council could not reach a consensus on the situation and decided to send the fact-finding on the ground mission.
United States has yet to take a position regarding the Paraguayan impeachment and pledged to do so once the OAS Permanent Council receives all the information. Canada on the other hand has recognized the new government alleging the removed president Lugo publicly accepted the Congressional ruling.