Paraguay considers consulting the people whether "to continue or not in Mercosur"
Monday, July 2nd 2012 - 00:16 UTC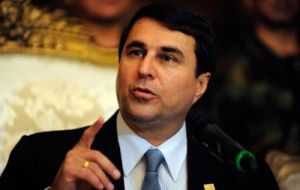 Paraguay's government blasted Mercosur decision of incorporating Venezuela as a full member of the bloc "before finishing the legislative procedure to do so" and did not discard the possibility of having the Paraguayan people "decide whether to remain or not in Mercosur".
President Federico Franco said Venezuela's incorporation has "no legal recognition" adding that his country's suspension from Mercosur 'is illegal and illegitimate.'
Last Friday Mercosur summit in Mendoza province announced Venezuela will become a full member of the bloc. Paraguay's government, led by Federico Franco following Fernando Lugo's removal from power, considers that the measure "violates the fourth article of the Ushuaia protocol, which demands consultation with the affected state, which did not take place" according to a communiqué released by the Paraguayan Foreign Ministry.
Paraguayan Foreign Minister José Fernández stated "we are in the Mercosur and we are not allowed to enter. We will remain a part of the bloc until our people decide if we continue or not".
Paraguay was suspended from Mercosur bloc until the 2013 presidential elections, after Fernando Lugo was removed from power in a two hour long impeachment trial. Federico Franco replaced him as president hours later.
The Union of South American Nations, Unasur in a similar decision following an emergency meeting in Mendoza also decided to suspend Paraguay until elections are held. The group also agreed to anticipate the transfer of the Unasur presidency, currently held by Paraguay, to Peru for the next twelve months.
Meanwhile removed president Lugo thanked Mercosur for not having implemented economic sanctions on Paraguay, and supported the incorporation of Venezuela to the block.
"I'm glad there is no sanction or economic blockade that would be harmful for the country and particularly for the humblest of our community. We are glad such sanctions have not been exercised" said Lugo interviewed by a Mendoza newspaper, the Argentine province where the Mercosur summit took place.
Regarding Paraguay's suspension from Mercosur, Lugo said that "what happened was that the constitutional order has been ruptured and the people's vote has not been respected, nor has there been the right to due process…"
Lugo celebrated the incorporation of Venezuela as full member of Mercosur, which had been delayed for years by the Paraguayan congress, the same lawmakers that finally had him impeached and removed from office.
"I have always questioned the Paraguayan parliament, how was it possible that three countries from Mercosur accepted Venezuela and they didn't? How is it possible that the three countries are wrong and that the Paraguayan parliament is right?" said Lugo who added that Chile, Bolivia and Ecuador should be admitted as full members.
"I think we have a great chance to expand Mercosur, I'm hopeful Chile, Ecuador and Bolivia have the chance to join as full members and we can all unite in a great South American common market so that we have the sufficient strength to negotiate as equals with other regional markets in other continents", concluded Lugo.