Peña Nieto, the new face of the old PRI, next Mexican president
Monday, July 2nd 2012 - 06:25 UTC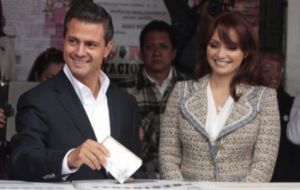 Enrique Peña Nieto leads his rivals in exit polls of Mexico's presidential election as he seeks to return the once-dominant Institutional Revolutionary Party to power after a 12-year hiatus.
Peña Nieto received 42% of the vote, ahead of the 31% for Andres Manuel Lopez Obrador of the Democratic Revolution Party and 23% for Josefina Vazquez Mota of President Felipe Calderon's National Action Party, according to a survey of voters at polling stations by GEA-ISA.
The poll of 3,588 people had a margin of error of 2 percentage points. A survey by BGC, Ulises Beltran y Asociados showed Peña Nieto with a similar lead.
"Tonight, Enrique Peña Nieto is the next president" of Mexico, the candidate's campaign manager Luis Videgaray said in an interview with Milenio TV. "If the numbers of GEA-ISA are sustained, we're talking about Enrique Peña Nieto winning the presidential election with a margin between five and six million votes."
Peña Nieto, 45, led polls from the campaign's start, fueled by pledges to boost salaries held back by economic growth that averaged 1.8% a year since Calderon took office in 2006. That's half the rate of Brazil's 4.1% average over that period, though Mexico has caught up in the past two years. Peña Nieto also promised to turn the tide in a drug war blamed for more than 47,000 deaths under Calderon and pursue tax, labor and energy overhauls to boost competitiveness.
In a televised speech, Vazquez Mota thanked all her supporters and said that the early results didn't favor her.
Peña Nieto has criticized the ruling PAN for not spreading the benefits of economic stability more widely during 12 years of rule since President Vicente Fox's election in 2000 ended the PRI's 71-year reign. Mexico remains economically dependent on the US, the world's largest economy, sending 80% of exports to its northern neighbor. Mexico is also the biggest buyer of US goods after Canada.