World's largest brewer takes over Mexico's Corona-Modelo group for 20.1bn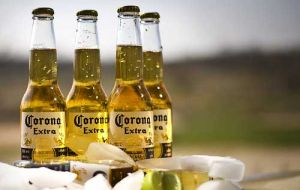 Anheuser Busch InBev, the world's biggest brewer, is taking over Mexico's Grupo Modelo for 20.1 billion dollars giving it dominance in Latin America's second-largest economy and adding Corona, the top-selling imported beer in the United States, to its brands.
The long-awaited deal is the biggest foreign buyout of a Mexican company in more than 20 years and shows how much global brewers are willing to pay for developing market growth in an increasingly consolidated industry.
AB InBev, the owner of Budweiser and Stella Artois beers, said on Friday it had reached an agreement with Modelo's controlling families to buy the half of Modelo it does not already own, increasing its exposure to Mexico's beer market which is growing at about 3 percent a year.
Modelo, founded in 1925, is Mexico's biggest brewer with a 50% plus market share in a virtual duopoly with Heineken's FEMSA Cerveza in the world's fourth most-profitable beer market
AB InBev expects cost savings from the deal of at least 600 million dollars annually after four years, more than most analysts anticipated, plus a further one-time 500 million of cashflow gains.
The new expanded AB InBev would produce about 400 million hectolitres of beer a year, 75% more than world number two SABMiller, with estimated revenues of 47 billion dollars and 17 billion-dollar brands, with the addition of Corona Extra, Modelo Especial and Victoria.
The Belgium-based brewer said it had added 14 billion of new bank loans to fund the all-cash transaction, adding that it would reduce its net debt/core profit ratio to 2.0 times during 2014.
In a related but separate transaction, Modelo will sell its 50% stake in joint venture Crown Imports to partner Constellation Brands Inc for 1.85 billion. Crown Imports distributes Modelo beers in the United States in a deal that runs to the end of 2016.
If AB InBev had wanted to buy out Constellation and distribute the beer itself, it would have pushed its market share in the United States above 50%, leading to antitrust concerns.
AB InBev Chief Executive Carlos Brito defended the price paid as "pretty reasonable."
"A 30 percent premium is not something unheard of," he said.
Two Modelo board members have committed to invest 1.5 billion dollars of their proceeds in AB InBev shares, to be delivered within five years. The pair, Valentin Diez and Maria Asuncion Aramburuzabala, will also join AB InBev's board.
Modelo's controlling families, including some of Mexico's wealthiest and descendants of the company's founder, were in no rush to sell. AB Inbev made the first approach on the deal and talks became serious toward the beginning of this year, two sources familiar with the matter said.
AB InBev and Modelo confirmed they were in talks on June 25, following a series of deals by big brewers looking to expand in growing beer markets and find ways to cut costs.