Brazil and Argentina to benefit most from Venezuela's Mercosur incorporation
Tuesday, July 3rd 2012 - 00:55 UTC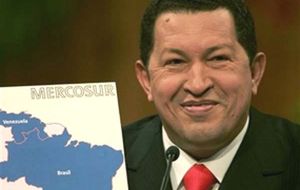 The formal incorporation of Venezuela to Mercosur next July will benefit mainly Brazil and Argentina since they could considerably increase their exports to the oil-rich country at the expense of the local production sector weakened by the economic policies from the administration of President Hugo Chavez, according to analysts.
"Main producers such as Brazil and Argentina will become the main beneficiaries of the incorporation because they will have greater access to the Venezuelan market, which is highly dependent on imports" said economist Pedro Palma from consultants Ecolatina.
Palma added that Venezuela "has virtually dismantled the private sector production capacity since many companies have been taken over by the state and once under state management they lose competitiveness and their level of productivity"
In Venezuela the policies of seizures and nationalization propped by the government of President Chavez, in office since 1999, have punished the private sector and caused the dramatic fall of domestic production in such sectors as aluminium, iron, and cacao and sugar among others, which traditionally have been strong in Venezuela.
Analyst Felix Arellano recalls that Venezuela has four years to adapt to the rulings of Mercosur and "there was no need to incorporate Venezuela to the block" precisely because countries such as Brazil and Argentina "are already selling huge volumes to the Venezuelan market" given the political affinity between the governments.
According to official data bilateral trade with Brazil multiplied fivefold since 2003 and reached 5.9 billion dollars in 2011, mostly sales of Latam's largest economy. With Argentina trade jumped from 526 million dollars in 2006 to over two billion last year.
Furthermore countries such as Argentina benefit from the reduction of "tariffs for the purchase of oil" from Venezuela which has one of the world's largest certified reserves of hydrocarbons.
Another factor which is a disadvantage for Venezuelan producers is exchange rate controls which make exporting difficult, pointed out Arellano who is head of the International Studies School from the Central University of Venezuela.
"The rigid exchange rate system has been a government policy that has destroyed production sectors", insisted Arellano.