Brazil considering more export-boost measures to counter declining trade surplus
Tuesday, July 3rd 2012 - 02:55 UTC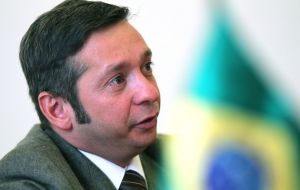 Brazil's government is studying measures to boost the country's exports in the face of a still-difficult global trade environment, Deputy Trade Minister Allessandro Teixeira said on Monday.
Speaking after the release of disappointing foreign trade results in June, Teixeira said the government was increasingly concerned over the pace of foreign commerce this year.
"The ministry needs to accelerate actions for the trade balance to have a good result in 2012," he said. However, he declined to say what type of measures would be considered.
Brazil's Trade Ministry reported Monday a June trade surplus of 807 million dollars, bringing the trade balance for the first six months of the year to a surplus of 7.07 billion. Trade officials reported exports in June were down 14.2% from the same month last year, while January-to-June exports were 1.7% lower than a year earlier.
The results both in June and the first half of the year were the worst on record in 10 years.
Teixeira said that because of recent disappointing results, the government may be forced to revise its 2012 export target downward from the current 264 billion dollars.
"We had the expectation that things would improve in the second half, but if things continue the way they are, there won't be an improvement" Teixeira said. However, the government would still have to evaluate the result of the trade balance in July before it makes any revisions to its year-end targets.
More negative news came from manufacturing with output in June shrinking for the third straight month. The HSBC Purchasing Managers' Index (PMI) for the Brazilian manufacturing sector fell to 48.5 in June from 49.3 in May after seasonal adjustments, the lowest since October and below the 50 mark that divides growth from contraction.
Both output and new orders posted the strongest pace of decline in eight months as demand remained weak, prompting companies to cut jobs for the third month in a row.
The PMI data could stir renewed concern among policy-makers who, anxious to revive growth, have chopped benchmark interest rates, granted new tax breaks and pledged to step up government buying of industrial goods.
It also highlights the impact of weak global demand over the world's No. 6 economy, expected this year to have the weakest annual performance since a shallow recession of 0.3% in 2009.
"The manufacturing sector kept struggling with competitiveness," said Andre Loes, HSBC Brazil chief economist.
"A weaker Real and lower interest rates may provide some relief in the medium term, but the breakdown of the survey suggests that in the short term, things are likely to remain challenging for manufacturers."