Buenos Aires to host South America Seatrade cruise convention next September
Wednesday, July 4th 2012 - 21:23 UTC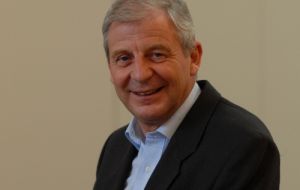 The second Seatrade South America Cruise Convention is scheduled to take place at the Quinquela Martin Cruise Terminal, Buenos Aires, Argentina next September 10-11. The event is organised in close partnership with the host port and Inprotur, the Argentine National Institute of Tourism Promotion.
Argentine Minister of Tourism Enrique Meyer will address the opening ceremony of the major cruise industry event together with the port of Buenos Aires president Oscar Hugo Vecslir and Ramerio Alem, Executive Director from the Argentine Chamber of Tourism.
Government representatives from Brazil, Chile and Uruguay will be also attending as well as leading cruise line executives such as Adam Goldstein, President and CEO of Royal Caribbean International, Pierfrancesco Vago, CEO of MSC Cruises, and Alfredo Serrano Chacon, CEO of Iberocruceros, according to the organizers.
"South America represents a massive opportunity for the cruise industry, both as a rapidly growing source market for guests and as a first class destination" said Seatrade Chairman Chris Hayman.
Rapid economic development and a growing wealthy middle class have created a source market for cruise passengers in South America for both regional and international cruising. In addition, the continent provides a range of destinations and itineraries of unparalleled variety and interest with appeal to all segments of the market from contemporary to luxury.
"We at Seatrade are delighted to be working with the Port of Buenos Aires and Inprotur on the second Seatrade South America Cruise Convention in September 2012. The inaugural event in Sao Paulo last year showed just how much interest there is from the cruise industry and from stake holders across the region to develop strategies for the further expansion of cruise tourism. Buenos Aires is an iconic destination with excellent credentials as a cruise port and it will make a great venue for this year's convention", added Hayman.
The two-day convention and dedicated social program showcasing the dynamic city of Buenos Aires will also be supported by ABREMAR, the Brazilian Cruise Association, APCRA, the Association of Cruise Ports in Argentina and the Corporacion de Puertos de Conosur which ensure a high level conference program.
In addition, there will be a free to attend travel agent training day on Tuesday 11 September also held at the cruise terminal Quinquela Martin co-organised with Noticias de Cruceros and supported by CAT, Camara Argentina de Turismo and by travel agent trade associations; AAOVYT, Asociacion Argentina de Operadores de Viajes y Turismo; AVIABUE, Asociacion de Agencias de Viajes y Turismo de Buenos Aires; AAAVYT, Asociacion Argentina de Agencias de Viajes y Turismo and AUDAVI, Uruguay's travel agencies association.