Libor rate manipulation: Barclays' former CEO does not convince PMs and points to Bank of England
Wednesday, July 4th 2012 - 23:00 UTC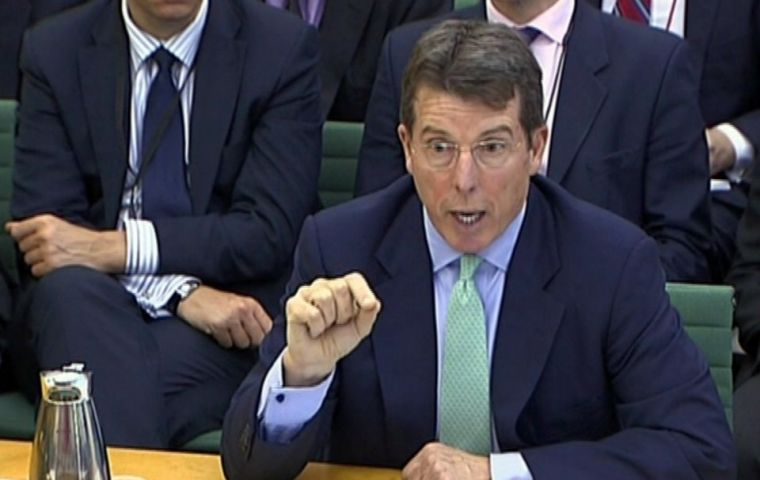 British banker Bob Diamond has revealed that one of his big fears during the 2008 global credit crisis was that his bank, Barclays, would be taken over by the British government.
The former CEO of the UK lender gave his testimony under questioning on Wednesday from British MPs, who were trying get to the bottom of how and why traders at Barclays had manipulated Libor, a key lending rate between banks that underpins a multi-trillion dollar market for financial products, from late 2008 onwards.
The questions were focused on a note that Barclays released on Tuesday, which Diamond wrote after a key phone conversation with Bank of England deputy governor Paul Tucker, on October 29, 2008. In it, Diamond said Tucker had told him there were concerns among "senior figures within Whitehall", about Barclays' Libor rate, which was at the "top end."
Barclays released the note, leading to a flurry of questions about whether Tucker essentially gave Diamond a "wink and a nudge" to help keep Libor low, and the country's banking system operating more smoothly at a tumultuous time for global markets. The answer seems to point more towards Diamond's attempts to protect Barclays' interests in a looming deal with Middle Eastern investors.
Diamond says he balked at the phone call with Tucker because he feared that British government officials thought Barclays looked weak enough to need a bailout. In the weeks prior, the British government had recapitalized the Royal Bank of Scotland, using a £500 billion rescue package of taxpayer's money to buy stakes in UK banks and shore up their finances. The same was being done for other banks like HBOS and Lloyds TSB. Barclays wanted to avoid a government bailout with all the restrictions that would follow, and at the time of his phone call, Diamond was already putting the finishing touches on a deal to raise money privately, from Middle Eastern investors.
"If Whitehall was told 'Barclays was at the highest Libor,' they might say, 'My goodness, they can't fund, we need to nationalize them,'" Diamond told the MPs earlier this afternoon. "We were desperate."
Libor is calculated each day after more than a dozen "panel banks" submit the rate at which they are charged to borrow money from one another. An average of the middle eight rates makes the day's final Libor rate. The higher a bank's rate, the less other banks want to lend to it and the weaker it looks financially.
"I was worried," Diamond later added. "If I can be perfectly frank, I said [to the Bank of England's Paul Tucker], "did you explain to the ministers the real story, which is that other banks are posting rates below ours…?" (The fact that Diamond said "ministers" suggests he believed people at the highest levels of the Labor government at the time, led by Prime Minister Gordon Brown and Treasury Secretary Alistair Darling, were questioning Barclays' financial strength. As of yet the names of the "Whitehall officials" cited in Diamond's 2008 note have not been revealed.)
When asked if Diamond took Tucker to mean that Barclays should be "fiddling" Libor rates, his answer to MP's was a straight, "No." Diamond, who had moved to New York in September 2008, after engineering the buyout of Lehman Brothers' investment banking business, said he told his CEO at the time, John Varley, "'John, you have to get to Whitehall. You have to make sure they know we are funding fine.'"
In the end, all went smoothly. Two days after Diamond's phone call with Tucker, on Oct. 31, 2008, Barclays announced it was raising £7.3 billion from the Middle Eastern government of Qatar and Sheikh Mansour Bin Zayed Al Nahyan, a member of the Abu Dhabi royal family.
According to regulators and the US Department of Justice, however, Barclays' Libor submissions went on to be manipulated anyway. The FBI is now investigating 14 Barclays traders allegedly at the heart of the scandal, and Diamond said on Wednesday he had no idea these traders had been influencing the rate, a practice known as "low-balling" until recently. He called their actions "reprehensible."
One other issue remains frustratingly unclear, though. Diamond had sent his note about Tucker's phone call to several senior executives, and one of them, Jerry del Messier, "passed down a direction" to others in Barclays to influence Libor, according to Barclays. Del Messier was co-head of Barclays' investment bank and Diamond's right-hand man. Barclays contends that he misinterpreted Diamond's note, and thought the Bank of England was instructing them to keep Libor submissions artificially low. (The Bank of England has denied this as "nonsense.")
MPs questioned Diamond about this point again and again today: How is it possible that Del Messier misunderstood Diamond's note so dramatically?
"You see him every day," said one MP. "How did he misconstrue the purpose of this phone call?"
"Jerry has been very honest about miscommunication between the Bank of England down," Diamond replied.
"But how did Jerry get this wrong?" the MP later asked again. "You've just been talking to him. How did he believe it was an instruction from the Bank of England?"
"I can't put myself in Jerry's shoes," Diamond said.
Later the chair of the Parliamentary select committee asked if Diamond could understand why MPs were skeptical that he had "not succeeded in clearing this up" – referring to Del Missier's misunderstanding. Diamond replied that he was "surprised' that the MPs were skeptical.
Diamond's main message seems to be that the Libor scandal boils down to misinterpretation, where the British government misunderstood Barclays' financial strength, and then Del Missier misunderstood Diamond's memo. And on top of that, Diamond claims he himself wasn't aware of what traders at his bank were doing: helping rig Libor rates.
Diamond's cool-headed testimony, one in which he was consistently addressing MPs by their first names as if the hearing was a daily management meeting, did not provide the explosive revelations financial observers were expecting.