Spanish court opens fraud case against Banka former executives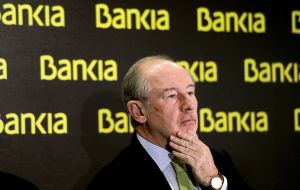 A Spanish court opened a fraud case against former executives of lender Bankia on Wednesday amid mounting public anger against the state-rescued bank.
The lawsuit was brought by one of Spain's smaller political parties and accuses 33 officials, including former chairman Rodrigo Rato, of fraud, price-fixing and falsifying accounts.
The High Court demands that Rato and the other executives appear in person, and that former Bank of Spain governor Miguel Angel Fernandez Ordoñez appears as a witness.
The government took over Bankia in May after it became clear the bank could not cope with losses stemming from indiscriminate lending during a property boom which crashed four years ago. The bailout forced Spain to seek a European rescue package.
Bankia holds more than 10% of Spanish deposits and is the biggest bank likely to receive a capital injection when the European bailout funds materialise later this year. Under new management, the bank has requested a 19-billion-Euro bailout.
Bankia's rescue, and the subsequent heavy losses for thousands of retail investors who took part in a stock market flotation of the bank last year, has angered Spaniards who are suffering from draconian government spending cuts.
Protestors have staged street demonstrations in their thousands, banging pots and pans and blowing whistles outside bank branches. Small-scale investors vented their fury at Bankia's new head Jose Ignacio Goirigolzarri at a shareholder meeting last week.