Argentine government in campaign to defend achievements of "economic model"
Thursday, July 5th 2012 - 07:58 UTC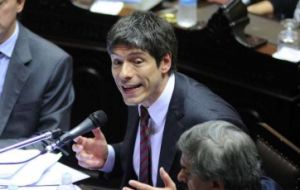 Argentina's Cabinet Chief Juan Manuel Abal Medina asked for "responsibility" to safeguard "the present and the future of the Argentines and urged people to preserve the achievements of the Government, as he answered questions of the administration during a visit to the Lower House on Wednesday.
"The responsibility of all Government officials is to safeguard jobs and the development of all Argentines and thus look after the present and the future of Argentines," Abal Medina said as he addressed lawmakers.
"There are some sectors that want Argentina to fail, they are minority sectors, but they are powerful. They are anti-democratic, because they dream with a different, democracy-free Argentina," he added.
"Argentina keeps on growing amid the storm and is successfully facing the international economic crisis due to the effort of each Argentine," the Cabinet Chief assured.
Abal Medina paid his first visit to the Lower House since he took office in December 2011. He answered the Upper House's questions during a May 2012 visit.
The cabinet chief continued with the official barrage in support of the successful "current economic development model" which is being exposed to a growing number of independent critical reports that question precisely the route and achievements.
On Tuesday President Cristina Fernandez in a further harangue praised "the strength" of the Government's model, which "keeps growing despite being in the eye of the storm."
"I will keep taking every necessary measure to guarantee growth. That is my responsibility as a president: to maintain hope and growth so more Argentines are included in it" she stated.
Cristina Fernandez made the statements during a signing ceremony of the expansion of an affordable housing program, which plans to build 1600 homes with Government funds.
She insisted in a direct unnamed blow to organized labour leader Hugo Moyano that Argentina needs "more articulators and less creators of conflict".