Bank of England pumps further £50 billion to the economy; total stimulus £375 bn
Thursday, July 5th 2012 - 22:25 UTC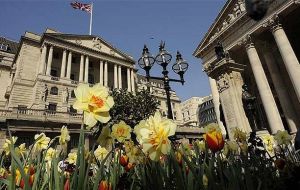 The Bank of England has announced on Thursday it will pump a further £50bn into the UK economy over the next four months through its quantitative easing (QE) program to try to help the economy.
QE aims to boost the economy by buying bonds. The latest increase will take the total stimulus to £375bn. The Bank also said it would leave UK interest rates unchanged at a record low of 0.5%.
The Bank of England's Monetary Policy Committee (MPC) has held rates at 0.5% for more than three years.
The Bank said that the UK economy, which is back in recession, had "barely grown for a year and a half". It added that growth in export markets had also slowed. The Euro zone debt crisis was "weighing on confidence here", it said.
Without an increase in QE, the Bank said there was a danger that inflation would fall below its target rate of 2%. Inflation as measured by the Consumer Price Index currently stands at 2.8%, down from 5.2% in September last year.
The additional stimulus had been expected following last month's MPC meeting, when four of the nine members voted to increase QE.
Since then, the UK economy has shown no real signs of recovery. A series of surveys released this week suggested that both the manufacturing and construction sectors had contracted in June, while growth in the service sector had slowed to an eight-month low.
Last month, the Bank announced two new stimulus measures. The first of these will provide banks with access to tens of billions of pounds of cheap credit on the basis that they lend this on to businesses.
The second provides banks with access to cash, should they encounter any short-term funding difficulties.
Analysts suggested there could be further stimulus measures on the way as the Bank tries to kick-start the UK economy, which shrank by 0.3% in first three months of this year and by 0.4% in the final quarter of 2011.
"We think it is the next step in a series of measures they are set to undertake over the next 12-18 months", said Adam Chester at Lloyds.