The Army captain torturer-interrogator of Rousseff died in 1992 show documents
Thursday, July 5th 2012 - 00:11 UTC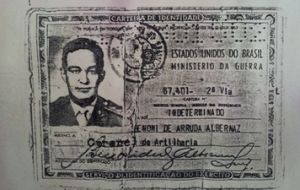 Army captain Benoni Albernaz head of an interrogators unit and one of the most vicious torturers of Brazilian president Dilma Rousseff, when she a student leader linked to the guerrilla movement died in 1992 according to O'Globo which published official documents from 1970.

Captain Albernaz belonged to a military family and his father was one of the officers from the Brazilian expeditionary force that was sent during World War Two to fight in Italy against the German occupation.

Operating from Sao Paulo, Albernaz was head of the Operation Bandeirante interrogators cell whose task was to extract information from suspects of supporting movements considered subversive by the Brazilian military dictatorship, 1964/1985.

Student Dilma at the time was a member of the Var Palmares armed group although she insists to have never been involved in direct actions but rather logistics.

"When I walk in here I leave my heart at home" was the presentation of interrogator-torturer Albernaz to his victims.

The captain was remembered by Rousseff at the beginning of 2000 in a book titled "Women that went for the armed struggle", which collects the testimony of the current president.

"The boss there was Albernaz; he was the interrogator, he beat and punched prisoners. He began interrogating and if he didn't like the replies he would punch you in the face", claimed Rousseff who lost a tooth during one of the torture sessions. She also has difficulties with her jaw when eating, a consequence of the punches and blows.

When he died of a heart attack while with his mistress, Albernaz left three children, hefty debts and charges of fraud. Precisely because of these claims he had to retire from the military and was benefited with the 1979 Amnesty law which impeded taking to court military and police personnel and subversives to trial.

During the Rio+20 summit last June president Rousseff speaking with journalists referred to the tortures she received in the early seventies following the surfacing of her testimonies to human rights organizations when she was a member of the city of Porto Alegre government.

"I don't feel hatred or vengeance, but I can't forgive", said the Brazilian president and underlined it was important for Brazil to turn over the page and bring to light events from the military dictatorship, through the recently created Truth Committee.

Rousseff said she did not know the names of her torturers but decided as a way of live not to choose hatred or vengeance.

"Hating or going after vengeance means becoming dependent from the very person you want to hate or vindicate".

Dilma the student was detained from January 1970 to December 1972 but the worst part of her imprisonment were the first 22 days when she was regularly tortured and abused.