Former Argentine dictator and other officers convicted for baby thefts
Friday, July 6th 2012 - 06:56 UTC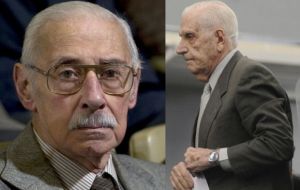 An Argentine court has sentenced former dictator General Jorge Videla to 50 years in jail for stealing babies from political prisoners. There were also heavy penalties for other military officers involved in the practice.
Videla was sentenced at Argentina's Federal Oral Tribunal Court on Thursday, along with other former officials from the 1976 to 1983 dictatorship.
The court ruled that Videla was guilty of systematically executing a plan in which infants were taken from detainees who had been kidnapped, tortured and killed by the regime.
While Videla was given a 50-year sentence, the country's last dictator General Reynaldo Bignone received a 15-year-term.
Hundreds cheered the ruling, which was broadcast on a giant television screen outside the courthouse. Nine other defendants were jailed for between 15 and 40 years because of their roles in the practice.
Rights campaign group Grandmothers of the Plaza de Mayo has fought a legal battle calling for justice for the stolen children since 1996. It claimed 500 babies were taken and subsequently raised by families close to the regime.
According to the evidence, Bignone had been urged to reveal the identities of the stolen babies as part of the country's transition to democracy. Instead, the court heard, he had ordered a cover-up.
The junta's "dirty war" on leftist dissidents eventually claimed 13.000 victims according to official records, including pregnant women who were forced to give births inside torture centers. Human rights groups place the number at closer to 30,000.
The 35 abductions dealt with in the court case took place at the Argentine Naval School of Engineering, ESMA, in Buenos Aires.
Survivors who testified said that inmates gave birth while shackled and hooded and, in the overwhelming majority of cases, were never allowed to see their babies.
In most cases babies were given to soldiers or friends of the military, while mothers were thrown into the sea from military planes in what were known as "death flights" or "disappeared" by other means.