Argentina ends double taxing treaty with Chile which was running since 1976
Saturday, July 7th 2012 - 05:15 UTC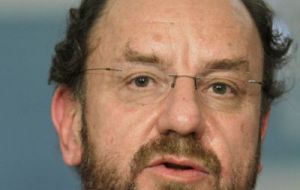 Chilean Foreign Minister Alfredo Moreno regretted Argentina's decision to end a double taxing agreement which was running since 1976 and exempts Chileans and Argentines making business in the neighbouring country from paying taxes as long as they are already contributors at home.
"These are treaties that are positive for both countries and therefore ending them is bad news", said the Chilean Foreign minister commenting the Argentine unilateral decision.
Argentina appealing to a clause from the treaty which allows canceling it in the period running from January first to June 30 of any year, announced its unilateral decision to Chile on June 29 alleging as it was "promoting a great fiscal evasion and elusion".
Nevertheless the treaty remains effective for the following six months, period in which Chile will try to renegotiate the conditions of the accord, anticipated Moreno.
The double tax accord subscribed in 1976 and ratified in 1986 by both countries, frees Chileans in Argentina from paying earnings' taxes, to contribute in the event of capital earnings, on net income and on the profits of certain games and competitions, if they are registered taxpayers at their home country.
In Chile the Argentines did not have to pay income or housing taxes. According to Chilean sources the Argentines also put an end to similar double taxing treaties with Switzerland and Austria.
Argentine ambassador in Chile Ginés González said the decision was not a "surprise" because both sides have been discussing for months and "unfortunately we could not finish on time for the framework".
Nevertheless the two countries are working in a new fiscal treaty "to sustain the good relations we've always had with Chile". Argentina cancelled the previous one because "we believe it was outdated and did not comply with the new fiscal reality".
But added Ginés Gonzalez," I'm convinced that by the end of the year we'll have a new treaty".