Euro crisis "the greatest external economic risk" for Latinamerican growth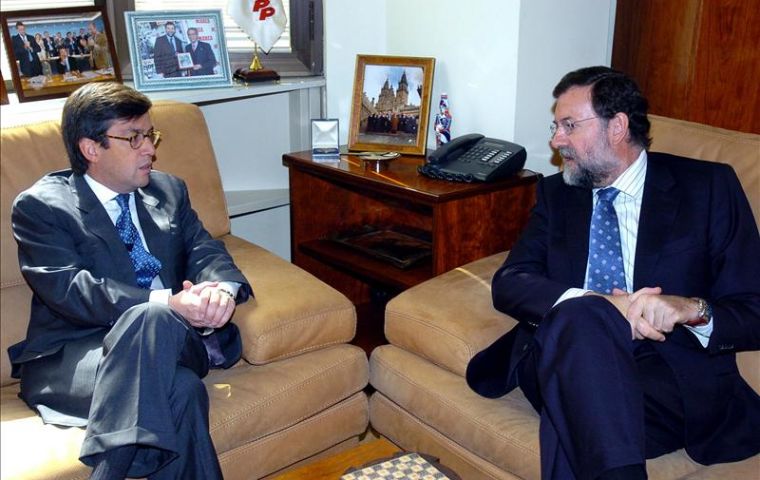 The Euro crisis is the "greatest external economic risk" for Latinamerica warned the Inter American Development Bank Luis Alberto Moreno who nevertheless said he was convinced the world with end acknowledging the efforts from the European Union and Spain.
"We consider Spain has done what it should have done as a new government with six months in office. We trust in its actions and we recognize its efforts, we have full confidence that Spain will overcome the crisis with success", said Moreno next to the Spanish president Mariano Rajoy during the opening of the IDB office for Europe in Madrid.
The Latinamerican continent is poised to grow above the global average in the coming years, but Moreno recalled that some papers and analysts from the IDB estimate the region could lose up to 40% of the potential growth index "if the European economies don't react adequately".
Despite these risks Moreno said the Europeans chose the right path. "I trust the world will end acknowledging the efforst from the EU and particularly Spain. I'm certain we'll overcome this crisis with more Europe and not with less Europe".
Moreno recalled the generosity of Spain over the last decades towards Latinamerica and the Caribbean countries. He was thankful to Spain not only for showing Latam countries that with "hard work and discipline you can advance", and with democratic institutions and rule of the law, as Spain, they could aspire to progress and development.
Latinamerica is evidence that "when things that must be done are done", countries move forward, overcome crises and emerge far stronger, said Moreno who emphasized that Latam is next to Spain, supporting, and has solid reasons to trust in the capacity of a country willing to resume sustainable growth.
Spanish president Rajoy said that Latinamerica is one of the regions in the world with greater economic dynamism and for the EU it is a "strategic partner".
Spain is a "unique" platform between both regions since it is the fifth European economy and the fourth in the Euro zone, with strong cultural links with Ibero-america and the Caribbean where Madrid figures as the main investor.
"Latinamerica is the main destination for Spanish investments overseas", revealed Rajoy. Likewise he emphasized the importance of closer economic and friendship links with Latinamerica, something to which the new IDB headquarters in Madrid will certainly help.
Moving the IDB office in Europe from Paris to Madrid will help to build a "bigger bank" and to better address the demands from the specific countries and their investment projects for development, said the Spanish president.
The IDB with its 48 members is a multilateral development organization started in 1959 with the purpose of reducing poverty in Latinamerica and the Caribbean through the financing of economic development, social and institutional projects.
Spain joined in 1976 and holds 1.89% of the bank's capital and has been donating on average 600 million Euros annually.