Bad weather threatening crops in farming giants but it's not like 2008
Monday, July 9th 2012 - 18:54 UTC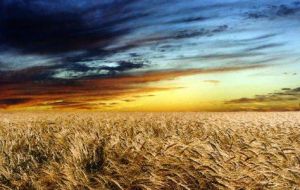 A second global food price shock is gathering steam as bad weather decimates crops in the farming giants US, Brazil, Argentina, India, Russia, the EU and Australia that feed the world, according to market analysts.
A heat wave and drought have threatened to reduce output of corn by 2.5% in the US Midwest, the world's top exporter. Heat has also shrivelled wheat in Australia, China and the Russian Federation. The FAO has slashed its 2012 world cereals output.
Rain has affected the sugarcane harvest in Brazil, the world's top producer, at a time when its production has slid to a three-year low. Rain has also affected sugar shipments from Australia, the world's third largest shipper. The condition of the US soybean crop, the world's biggest, has fallen to its worst since the drought year of 1988. Other suppliers Brazil and Argentina have reduced output due to a La Niña-driven drought.
Hot weather has suddenly set the market alight. The S&P GSCI gauge of 24 commodities, which had tanked to a 20-month low on June 21, is since up 10%. Wheat is at a 14-month high, its biggest three-week rally since April 1996. Corn has gained 30%, its biggest rally since 2008. Soybean has reached the highest since July 2008. Sugar has touched an 11-week high.
However weather is improving in the US Corn Belt. Rain and cooler days have been forecast. US corn farmers have planted more area than last year that might compensate for lower production per acre.
Moreover, Brazil expects a record corn crop this year, which would add to the globally traded volumes. The return of dry weather in Brazil would limit the damage to sugarcane. Even if harvests in the major exporting nations are partly lost, there will still be no shortage. The world has ample wheat, corn, rice, sugar, and edible oils, says the FAO.
Demand is not soaring like it did in 2008. Corn, for instance, is mainly fed to animals and used in ethanol. Demand for meat and milk, especially in Asia, is sluggish because of the overall economic slowdown, while the profit margin in ethanol is squeezed by dull crude oil prices. Consumer confidence in the developed economies has plummeted.
Unlike 2008, the world is in no mood to pay the earth for food. Since weather is the only factor propping up prices, news of improved yields can easily prick this bubble. Other commodities such as energy and metals are suffering. Crude is down 13% this year. Faltering demand and sharp falls in industrial metals prices since last August have forced producers to cut output.
IMF has warned it will trim growth forecasts. Bad weather is the only good news right now in the commodity market and punters want to milk it for every drop.