Brazil plans to become main producer/exporter of iron ore by 2015
Monday, July 9th 2012 - 12:29 UTC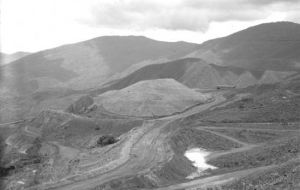 Hong Kong's Honbridge Holdings Ltd plans to build a 420-kilometre pipeline to ship iron-ore from a mine in Brazil's Minas Gerais state to a port on the country's Atlantic coast, the Estado de Minas newspaper reported.
The pipeline will carry a slurry of water and fine, processed iron ore to the port of Ilheus in Brazil's Bahia state, as part of Honbridge 3.6 billion dollars Sul America de Metais (SAM) project, the paper said, citing Minas Gerais officials.
Officials said the project could require an additional 600 million in investments, bringing total spending to 4.2 billion dollars, Estado de Minas reported.
SAM plans to export 25 million tons a year of iron ore to Chinese and other steelmakers, the paper said, citing Minas Gerais officials. SAM is managed by Brazil's Votorantim Group, which sold the project to Honbridge for 390 million in April 2010. No date for start-up was given.
Honbridge's efforts are part of a flurry of new iron ore mining projects being developed in Brazil by local miners such as Vale SA, MMX Mineracao e Metais and Cia. Siderurgica Nacional and foreign-backed companies such as SAM and Ferrous do Brasil SA to meet the growing demand for steel in China and the rest of Asia.
These projects are expected to boost Brazilian iron-ore output by more than 40% to 450 million tons a year in 2015 from 320 million tons in 2011, according to Macquarie, an Australian-based banking group, and Ferrous do Brasil.
Honbridge submitted an environmental license petition for the pipeline with Brazilian environmental authorities on July 3 and has already received a water-use license, Honbridge said in a July 4 filing with Hong Kong securities regulators.
The application is for a preliminary environmental license that would allow the company to move ahead with planning and pre-construction activities. Getting final approval and starting output could take three to five years based on the progress of other Brazilian iron-ore mine projects in the region.
The pipeline option was chosen over a rail-transport plan that required the construction of a spur line to the proposed mine and an upgrade to existing track, Estado de Minas reported.
To provide water for the pipeline, SAM plans to build an 80 million dollars dam on the Vacaria River near Salinas, in the north of Minas Gerais, state officials told the paper.
The dam will also provide water to irrigate 500 small farms in the impoverished and drought-prone region.
Honbridge in April 2011 signed an agreement with the Shougang Group, one of China's largest steelmakers, to provide it with 10 million tons of iron ore for 15 years. Chinese state-owned Shougang also agreed to a prepayment of 1.5 billion dollars to help finance the new supply.