Brazilian Air Force delays for another six months bidding for huge contract
Monday, July 9th 2012 - 05:51 UTC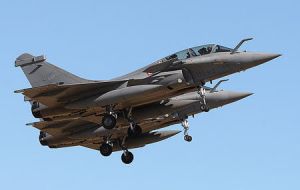 Brazilian Air Force has asked bidders to renew their offers on a contract to provide 36 next-generation fighter jets, extending for six months a race between US, French and Swedish contestants.

The Rafale fighter, made by French firm Dassault Aviation, is competing against the US F/A-18 Super Hornet and Swedish manufacturer Saab's Gripen for the contract valued at between 4 billion and 7 billion dollars.

The air force asks the bidders to renew their offers every six months. The last bidding window ended on June 30 and the new one will end December 31.

In a statement the air force said it was a "normal procedure" to extend the offers for the government to study them so long as the winner has not yet been selected.

Dassault's Brazilian unit chief Jean-Marc Merialdo said this marked the fourth six-month extension for the offer, but stressed that "it is a purely administrative move with no further significance."

Brazil, Latin America's dominant power and the world's sixth-largest economy, is insisting on technology transfer in all its defence agreements. It is due to announce the winner this year.

Although France has offered full technology transfers in its bid to win the contract and the Rafale is thus seen as the best placed to finish on top, the F/A-18 is being offered at the best price.

And during a visit to Brazil earlier this year, US Defence Secretary Leon Panetta pledged US advanced technology transfers if Brasilia chooses Boeing's supersonic jet.