Norwegian company completes most successful Antarctic krill season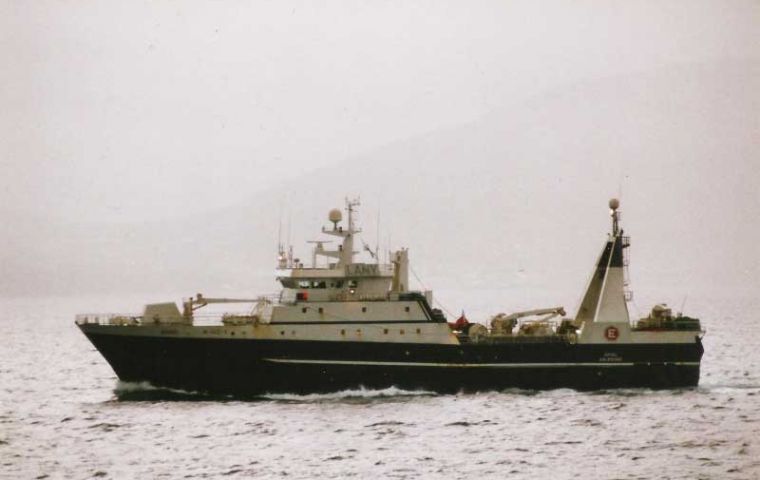 Olympic Seafood AS has announced that its vessel 'Juvel' has recently completed its most successful Antarctic krill season ever, with record efficiency and a catch of the utmost quality.
Two trips were all it took for Juvel to ensure enough raw material for the coming 24 months. The crew and boat performed flawlessly throughout the journeys and achieved a record efficiency for Olympic Seafood, therefore shortening the trip times in the Antarctic. This saves not just time but also energy.
Even T. Remøy, Sales and Marketing Director at Olympic Seafood AS commented: "The crew did a fantastic job. We had two trips with full cargos, while fishing conditions during that period were favourable. Everything went according to plan."
At the start of the season, Juvel and its crew were dedicated to scientific use. The vessel conducted a three-week research trip around the South Orkney Islands in cooperation with the Convention on the Conservation of Antarctic Marine Living Resources (CCAMLR). Scientists from the United Kingdom, China and Norway joined the trip, and Juvel headed wherever the scientist needed it to go to accomplish their goals. One of the research tasks was to survey a particular area using acoustic sonar and collect samples of krill.
The scientific data collected from this journey will be analysed over the comings months and years to establish a more accurate picture of how the krill biomass interacts with the food chain in the area. This helps to ensure the krill stocks will not be depleted and Antarctic krill remains a flourishing component of the delicate Antarctic ecosystem.
Not only was the krill season a success in terms of efficiency, but also the quality of the krill was very high. This is important for the production of Rimfrost Krill Collection products, as well as a positive indicator that the krill population is healthy and stable.
"We are excited to see that not only is our vessel 'Juvel' and its crew performing flawlessly to produce particularly high quality raw material, but that the krill population seems to be thriving in the waters where we fished" explains Remøy.
The company is located on the West Coast of Norway in Fosnavaag, which has been one of the largest fishing ports in Norway since ancient times. Olympic Seafood AS focuses exclusively on Antarctic krill ingredients for consumer applications. The flagship brand, the Rimfrost Krill Collection is comprised of Antarctic krill meal, powder and oil.
'Juvel' aims for low emissions, low energy use and low climate impact. The proprietary technology on-board allows minimal and rapid processing to safeguard the natural and intrinsic goodness of krill. The vessel is certified by Friend of the Sea and can guarantee 100 percent traceability. (Olympic Seafood AS).