Argentina reports the US and Japan before the WTO for restrictions on beef and lemons
Tuesday, July 10th 2012 - 21:07 UTC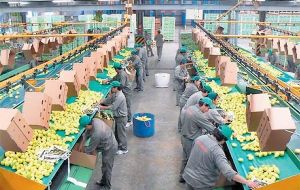 Argentina announced it has formally reported the United States and Japan before the World Trade Organization for the constant barriers set to Argentina's meat and lemon exports to the afore mentioned countries.
Through a statement released by the Foreign Ministry, Argentina said the presentation was done before the WTO Sanitary and Phytosanitary Committee.
The statement remarks that Argentina "has set an energetic complaint against the United States, who has been for years delaying (fresh, chilled and frozen) meat export permits from areas free of foot and mouth disease with vaccination, as well as the refusal to recognize that the Patagonia region is free of FMD without vaccination".
Furthermore, the communiqué assures that Argentina has determined that there is no scientific reason for not recognizing Argentina's health status and sanitary conditions, which is recognized by the World Organization for Animal Health, OIE."
Argentina has also questioned the US delay in reopening its market for Argentine citrus exports, taking into account negotiations have been ongoing for the last seven years.
Likewise with Japan Argentina has demanded the opening of that country's meats' market and acknowledgement of Patagonia's sanitary status, a zone free of FMD without vaccination, and as in the previous case with negotiations ongoing since 2005.
Argentina leads the questioning of several developed countries for the proliferation of sanitary, phytosanitary and technical rules with no scientific fundamentals which restrict in an arbitrary and unjustified the export of agriculture produce, both in developing countries and from those less advanced.
The unjustified restrictions from the US and Japan must be added to the traditional protectionist practices, such as farm subsidies, which perpetuate a misbalanced multilateral trade system and which constitute a further proof of the double standard existent among developed and developing countries regarding international trade, concludes the release.