IAATO helps with checklists for assessing Antarctic land bases and yachting expeditions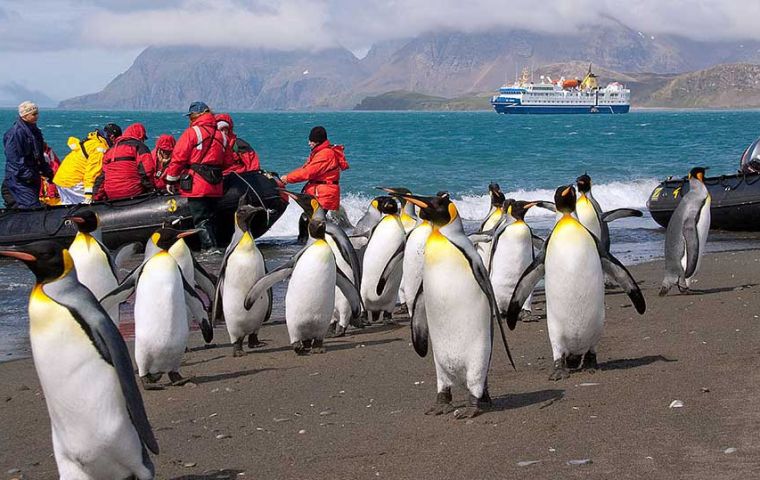 Safe and environmentally responsible travel to the Antarctic featured prominently in the official press communiqué issued at the 35th Antarctic Treaty Consultative Meeting (ATCM XXXV), which concluded June 20 in Hobart, Australia. The meeting was held in conjunction with the Committee for Environmental Protection (CEP XV).
The two-page communiqué – which can be read in its entirety on the ATCMXXXV website, summarizes the accomplishments resulting from the annual gathering of Treaty Parties to establish policy and other decisions relating to the management of Antarctica. Tourism was just one of many topics deliberated at the meeting, which also included discussions of climate change, scientific research on non-native species, clean-up and inspections at national program research facilities, and a multi-year strategic work plan.
Steve Wellmeier, Administrative Director of IAATO, noted that the communiqué cites the adoption of checklists for assessing land-based and yachting expeditions as well as for supporting inspections of tourist activities ashore. "As an invited expert to ATCM, IAATO had the opportunity to contribute to the development of these checklists, based on the practical experience and expertise of our operators. In general, we look at these as positive steps largely designed to assist the Treaty Parties in assessing the suitability of operators for whom they are responsible for authorizing visits to Antarctica."
IAATO was also integral in the development of new visitor site guidelines adopted at the meeting, for D'Hainaut Island, Mikkelsen Harbour, Trinity Island; Port Charcot, Booth Island; and Pendulum Cove, Deception Island, South Shetland Islands. "Using the visitor statistics we presented to ATCM in 2011, D'Hainaut Island and Port Charcot were identified as sites that would benefit from new visitor guidelines. We worked with the relevant Treaty Parties inter-sessionally to develop these guidelines, and are pleased to see that they were adopted and are now in place for all visitors. Our input was also instrumental in modifications to the visitor site guidelines for Barrientos Island in the Aitcho Islands group, South Shetland Islands," Wellmeier added.
The communiqué noted the comprehensive study on the aspects and impacts of tourism in Antarctica by the Committee for Environmental Protection, led by New Zealand, which will provide the basis for future management decisions. IAATO has taken an active role in contributing to and commenting on the study, and expressed its wishes at the meeting to continue to engage in these discussions both in CEP and ATCM. "We will continue to provide all requested data on tourism visitation by our members, and note that the study was heavily reliant on annual visitor data from IAATO operators, both ship-borne and land-based. We encourage the Treaty Parties to actively monitor and document all visits within the Antarctic Treaty area, not just from recognized tour operators. Valid assessment of and decisions relating to impacts must consider all human activities," Wellmeier added.
"As an association, our mission remains focused on environmentally responsible travel to Antarctica and we look forward to actively participating in the intersessional contact groups during the next 12 months that will discuss the recommendations coming out of the tourism impact study."
Results of the intersessional discussions will be tabled at ATCM XXXVI, scheduled for Brussels, Belgium, May 20-29, 2013.
"We were also pleased to see considerable attention at the meeting devoted to understanding and addressing the implications of climate change, which many consider to be the primary issue facing the Antarctic environment and its associated ecosystems. IAATO will continue to bring this to the attention of our visitors in our ongoing efforts to make them ambassadors for Antarctic conservation," he added