The 34-country OECD has 48 million jobless with little hopes until 2014
Tuesday, July 10th 2012 - 21:02 UTC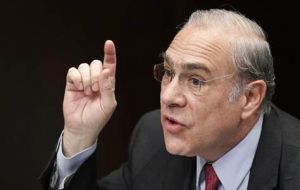 Unemployment in advanced economies will remain high until at least the end of 2013, with young people and the low-skilled bearing the brunt of what is by far the weakest economic recovery in the past four decades, the OECD said today.
The jobless rate in the 34-country OECD area will still be stuck at 7.7% at the end of next year, close to this May's 7.9% rate and leaving 48 million people out of work, the Organisation for Economic Cooperation and Development said in 2012 Employment Outlook.
The recent deterioration in the economic outlook was very bad news for the labour market, OECD Secretary-General Angel Gurria said.
"It is imperative that governments use every possible means at their disposal to help jobseekers, especially young people, by removing barriers to job creation and investing in their education and skills," said Gurria. He presented the report in Paris, where the think tank is headquartered.
Countries needed to tackle the jobs crisis with appropriate macroeconomic policy measures, including immediate steps to stabilise Europe's banking system. There was also a case for some easing of fiscal policy if governments retain room for budgetary manoeuvre, the OECD said.