Italy's caretaker PM Monti says next year's election can be looked at "with serenity"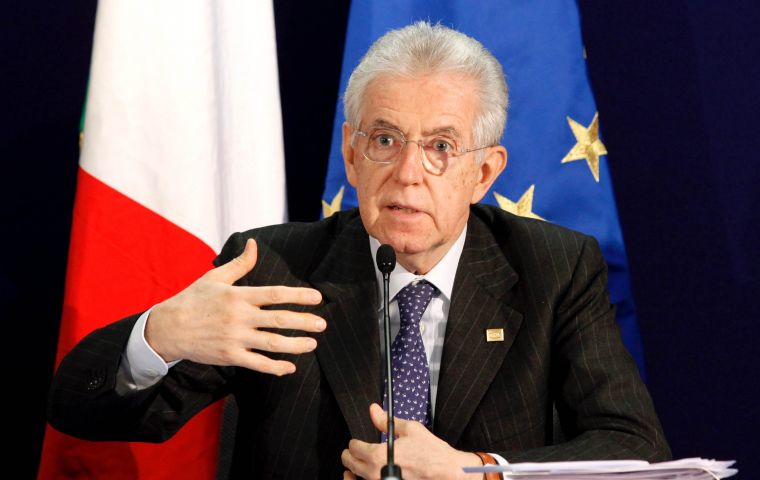 Italy's technocrat Prime Minister Mario Monti, appointed last year to steer his country through a debt crisis, said he was confident a stable government would be formed after elections in 2013, playing down fears of deadlock after he steps down.
The former European Commissioner, who repeated that he had no plans to stay on after the vote early next year, said the support that parties had given for his unpopular austerity-minded reforms meant that the prospect of a new government next year could be looked at "with serenity".
"They are showing notable responsibility," he told the annual assembly of banking association ABI.
Italy's party landscape and turbulent political climate has made it extremely difficult to predict the outcome of next year's elections, increasing the uncertainty for nervous financial markets and Italy's European partners.
Rome's benchmark 10-year borrowing costs have climbed close to 6%, a level widely considered as unsustainable for the recession-hit economy as doubts have grown about the ability of the weaker Euro zone states including Italy to manage their heavy debt burdens while also stimulating growth.
Monti's comments came as the secretary general of the centre-right People of Freedom (PDL) party urged former Prime Minister Silvio Berlusconi to run for office again next year, a prospect which has compounded market anxiety.
"For someone who governed in such complicated years and who made way for a technocrat government without ever being defeated in parliament or losing an election, I think it is right and legitimate for him to seek the judgment of the Italian people," Angelino Alfano told reporters.
Berlusconi, a 75-year-old media mogul, left office last year after financial market turbulence threatened to push Italy's 1.9 trillion Euro public debt into a Greek-style meltdown that could have destroyed the euro zone.
The PDL has been in disarray ever since and opinion polls point to a victory for a centre-left bloc. However, public disgust with the traditional party system is running high, indicated by the runaway success of the populist Five Star Movement of maverick former comedian Beppe Grillo.
The prime minister on Wednesday handed over the finance portfolio which he has held since coming to office to deputy Economy Minister Vittorio Grilli and said world opinion about Italy had changed much more quickly than expected.
He contrasted the "humiliation" of Berlusconi at a meeting of G20 leaders in Cannes at the height of the crisis last year, when international partners demanded change from Italy, with the welcome he received at the most recent G20 meeting in Mexico.
However he said the spread - or risk premium - demanded to hold Italian debt rather than benchmark German Bunds was unjustifiably wide given the reforms his government had undertaken. Analysts said the lack of political clarity ahead of next year's election was stoking the pressure.
On Tuesday, the International Monetary Fund underscored the progress Italy has made in reining in its public finances, forecasting a primary surplus, excluding interest rate payments of 4% of GDP next year.