Argentine economy suffering from a mix of stagnation and strong inflation
Thursday, July 12th 2012 - 07:09 UTC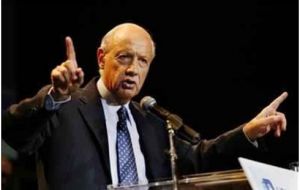 The stagnation of the Argentine economy at the end of the first half of the year is "palpable" and so is tension in the money exchange market because of the restrictions on the purchase of US dollars imposed by the government of President Cristina Fernandez, according to a report from economic advisors Ecolatina from Buenos Aires.
"The closing of the first half of 2012 has not been encouraging" said Ecolatina adding that in the second quarter of the year "there was an inter-annual drop in three sectors considered crucial for the Argentine economy: agriculture, construction and manufacturing".
Furthermore the cooling is beginning to debilitate the labour market and consumption, warned Ecolatina economic consultants, which was founded by former Economy minister Roberto Lavagna.
Besides the "palpable" stagnation of the Argentine economy, the situation has become complicated because "inflation does not yield, the exchange money market tension persists, the fiscal situation is deteriorating and international reserves have not grown".
The regression of economic expectations in Argentina "brought greater uncertainty and lack of confidence which echoed in investment decisions which are expected to have fallen five percentage points in the first semester".
Ecolatina said the construction index dropped 0.1% in the six months and the imports of capital goods, in volume, collapsed 24% in the first five months of the year.
Nevertheless what is surprising is the resistance of the inflationary process because despite a lesser dynamism from domestic demand, the increase is prices has remained sustained in the first half of the year, indicates the report.
"If to this we add the greater emission to help finance the treasury, inflationary pressure are bound to persist even in a recession scenario", forecasted Ecolatina.