Argentine resident can only purchase "tourist dollars" through banks
Friday, July 13th 2012 - 06:59 UTC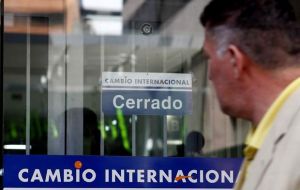 The dollar clamp continues to advance in Argentina: foreign currency for overseas travel will only be available in the official market with a bank check or debit from the buyer's current account. This is considered the latest interpretation from last week's resolution banning savings in the US currency.
"As of today and following regulation modifications operations for the sale of bills and traveller cheques to residents will only be charged through a bank account debit, a cheque or from a transfer of the resident's account in another bank", says the latest release to money exchange houses which described the norm as a "deadly blow" for the sector's activities already suffering from the collar clamp escalade.
The Argentina Chamber of Money exchange houses and agencies was responsible for making the announcement to its members following on an "official instruction" for the interpretation of some aspects of the mother resolution banning savings in dollars.
"The instruction is in line with the government's decision to make all money exchange operations through the banking system", said Argentine Central bank sources.
The decision will have a direct impact on 90 money exchange houses and agencies in the city of Buenos Aires some of which have already returned their licences since the dollar clamp policy has virtually left them with no money exchange business.
"If to buy dollars you need a cheque or a transfer why bother go to a money exchange house, simply do all the paper work in your bank, and that leaves us all out of the business; it's a dead end for us", said members of the Chamber.
Meanwhile the US dollar in the official market moved up one cent on Thursday trading at 4.52 and 4.57 Pesos. Alternatively, the US currency rate on the black market moved up by ten cents, trading at 6.10 Pesos.