Commons report reveals UK sold £ 2.3m of military equipment to Argentina
Friday, July 13th 2012 - 03:21 UTC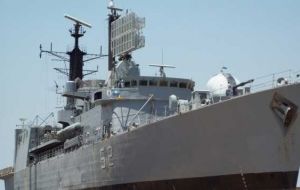 The British government must exercise more caution in granting licences for the export of arms, according to a parliamentary report which mentions authoritarian regimes such as Bahrain but also areas of direct concern for UK such as Argentina and the Falklands.
A Commons select committee review of export controls revealed that the Foreign Office expressed concern about the sale of equipment to Argentina amid tensions over the Falkland Islands, the Guardian reported Friday.
According to the Mail on line Britain sold £2.3million of military equipment to Argentina in the last two years despite mounting tensions over the sovereignty of the Falklands.
"Ministers approved the export of components for helicopters, warships, aircraft and radars as well as communications equipment and shotguns" and the consignments "were sent to Buenos Aires as Argentine president Cristina Fernandez ratcheted up demands for Britain to hand over the islands".
Figures published in a report by MPs reveal at least £700,000 of arms was sold between October and December last year as the 30th anniversary of the Falklands' conflict approached.
The cross-party Committees on Arms Export Controls expressed disquiet that shipments had been delivered to Argentina in light of its threat to the Islands, said the Mail on line. Since 1998, UK policy has only agreed to export goods which would maintain Argentina's military position, not enhance it.
Under British rules, licences should not be granted if there is a strong chance the arms will be used to provoke conflict or as instruments of internal repression.
The chairman of the committee said FCO unease about the sale of equipment to Argentina mirrored anxiety within the government triggered by "previous Falklands experience, where British ships were tragically sunk and many people lost their lives".
Alistair Burt, the minister for counter-proliferation, said Britain had behaved responsibly during the Middle East uprisings.
"The UK has a rigorous export licensing procedure," he said, according to the Guardian. "We look at each application on a case-by-case basis. It is wrong to allege that in the run-up to the Arab spring UK export controls were lax.
"When the licences in question were issued, they were properly assessed in the light of the prevailing circumstances. Once the circumstances changed, the risk was reassessed and licences were revoked" said Minister Burt.
Last April, Business Secretary Vince Cable announced that export control policy to Buenos Aires was being tightened following a series of rows, including Argentina stepping up its official policy of blockading the Falklands.
The committee urged the Government to press the US, EU and other countries to stop exporting military goods and technology to Argentina.