Former PM Berlusconi will return as candidate in next year's general election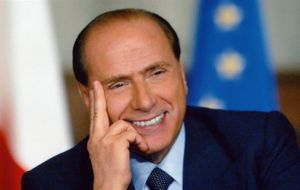 Former Italian Prime Minister Silvio Berlusconi will return to frontline politics as the centre-right candidate in next year's general election, a senior official in his PDL party was quoted this week.
"Yes, Berlusconi is the candidate for premier," Fabrizio Cicchito, PDL parliamentary leader told Italian news agencies after a meeting of the party leadership at Berlusconi's Rome residence.
He said the return of Berlusconi, the undisputed master of a party built up entirely around him meant there would be no primaries to find a candidate, as had been originally expected.
The confirmation follows growing speculation about a likely return by the former premier, who has kept a low profile since he resigned last year in the middle of financial turmoil that risked tipping Italy into a Greek-style debt crisis.
On Wednesday, PDL party secretary Angelino Alfano said he was among those pushing the 75-year-old media billionaire to lead the centre right into elections expected early in 2013.
Berlusconi himself has given several recent hints that he was planning a return to politics, complaining about his successor Mario Monti's austerity policies and musing openly about the possibility of Italy leaving the Euro.
The dominant figure in Italian politics for almost 20 years, he has divided opinion like few others, retaining a sure feel for the mood of mainstream Italy while fighting a constant series of corruption and sex scandals.
Financial markets have been on edge at the prospect of political stalemate that would block more economic reforms after Monti's departure next year and Italy's borrowing costs have got back close to the levels they hit when Berlusconi stepped down.