Paraguayan presidential hopeful said the country should in no way abandon Mercosur
Friday, July 13th 2012 - 23:34 UTC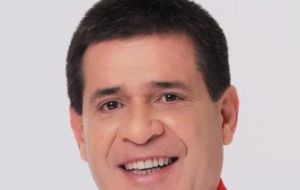 Horacio Cartes a presidential hopeful from the Paraguayan hegemonic Partido Colorado said that exiting Mercosur would only cause the closure of industries and the loss of thousands of jobs in the country.
"Paraguay in no way should abandon Mercosur…we have to hold on tight while they bash us a little bit and keep low and don't play to being giants or annoyed", said the presidential hopeful during a political rally with a youth movement.
Cartes, a rich rancher and businessman said that Paraguayan authorities should "avoid acting with arrogance" since many of the country's companies depend from Mercosur tariff benefits and the big neighbouring markets.
"Mercosur is a common market like is Europe and with our neighbours we also have many coincidences", said the politician. He added that in a globalized world "all countries are interconnected and it is out of the questions trying to isolate Paraguay from other countries".
"The OAS (Organization of American States) has already began to understand our politics, that we're a sovereign country, all was done according to the book and the Constitution" said the presidential hopeful in direct reference to the recent removal following a political impeachment of former President Fernando Lugo.
Following Lugo's removal Paraguay was suspended from Mercosur and Unasur, however an OAS fact-finding mission is not enthusiastic about such radical measures. The suspension is until next year's presidential election in April.
Some Paraguayan manufacturing and farming lobbies have argued strongly for the country to definitively abandon Mercosur following on the suspension. Mercosur took advantage of the suspension and incorporated Venezuela as a full member with the request pending since 2006 and only blocked by the Paraguayan Senate.
The whole situation, the impeachment of Lugo, his removal, Mercosur immediate decision to suspend Paraguay and incorporate Venezuela has caused a major regional controversy.