Rousseff pledges to prop the economy but with no EU-style austerity measures
Friday, July 13th 2012 - 23:46 UTC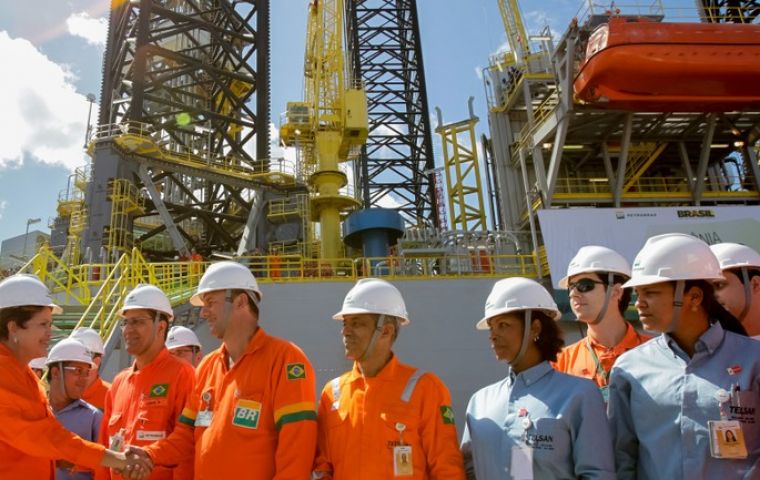 Brazil will not adopt EU-style austerity measures to tackle its economic crisis and will instead cut taxes and maintain social programs, President Dilma Rousseff said on Friday.
Inaugurating an oil platform in the north-eastern state of Bahia, the Brazilian president launched fresh criticism of the belt-tightening measures adopted by debt-ridden European countries, including salary cuts and higher taxes.
"Brazil is following a different path. This is not our way. Our way is to maintain our investments, seek each time to ensure that the subsidies, the advantages and the successes of this development are distributed," she noted.
She made clear that resource-rich Brazil, the world's sixth largest economy, will not restrict any labour rights, will boost stimulus measures and will act to prevent the national currency, the Real, from appreciating against the dollar as this would harm the already fragile industrial sector.
Rousseff pointed to the central bank's decision to cut its base rate from 12.5% last August to a historic low of 8% this week. Bank authorities hope their gradual rate cuts will reduce the cost of credit for consumers.
"We will stick to this target: tax cuts. Gradually we will turn the crisis into an opportunity," Rousseff said.
She added that her government wanted to reduce production costs "in a systematic way, through tax cuts and "not as is being done there (in Europe) by cutting salaries and social gains."
Brazil is currently experiencing anaemic growth which authorities blame on the impact of the Euro zone debt crisis, the economic slowdown in China and the poor performance of US economy.
Last year, Latin America's largest economy grew a tepid 2.7% last year, down from a sizzling 7.5% in 2010. And the central bank has slashed its official GDP forecast for this year to 2.5% from 3.5%, while market analysts are projecting growth of 2%.