The Argentine government moves into the power distribution sector
Friday, July 13th 2012 - 06:52 UTC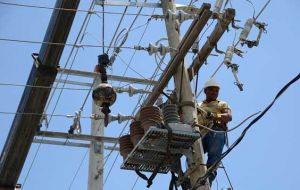 Argentina's government appointed an "observer" Thursday to oversee business operations at the power distributor Edesur SA, after the company reportedly failed to make a payment to a regulatory company.
The move comes after rampant inflation and a decade of capped rates have pushed Argentina's ailing electric utilities to the brink of financial collapse. Edesur reportedly failed to make a payment to Cammesa, a largely state-run company that manages the wholesale electricity market.
"The observer will have the most ample powers to do his job," Argentina's Federal Planning and Infrastructure Ministry said in a statement late Thursday. The observer, Luis Barletta, was appointed to ensure that Edesur continues to provide power normally, the ministry said.
Argentina's top power companies are Edenor; Edesur, a unit of Italy's Enel SpA; and Edelap. They distribute electricity to millions of people in Buenos Aires City and metropolitan areas.
Unlike distributors in Argentina's interior that have been allowed to increase rates, the three companies have been largely unable to raise rates to compensate for annual inflation surpassing 20% and even greater wage increases.
In 2011, Edenor, the biggest distributor, reported a loss of 435.4 million Argetnine pesos (98.3 million US dollars), while Edesur posted a loss of 461 million Pesos and Edelap, 138 million Pesos. Operating costs last year rose 42% for Edenor, about 45% for Edesur, and 18% for Edelap.
The local daily Cronista reported that Edesur failed to make a payment for 148 million Pesos (32.5 million dollars).
Since 2003 Argentina's government has intervened in the management of other utility companies including natural gas distributor Metrogas and TGN natural gas transportation company. It has also nationalized flagship carrier Aerolineas Argentinas, the post office and a major water and sewage company, among other services.
This year, the state took a controlling stake in the country's main energy company YPF, despite protests from Repsol and Spanish officials.